This site uses cookies to provide you with more responsive and personalized service and to collect certain information about your use of the site. You can change your cookie settings through your browser. If you continue without changing your settings, you agree to our use of cookies. See our Privacy Policy for more information.
Gallipolis, Ohio
Moody Radio's Gallipolis Satellator first signed on in December 1992. First Baptist Church of Gallipolis headed the original $25,000 fund-raising effort that made the Gallipolis Satellator possible. This greater surrounding area provides the potential for reaching a population of 8,035. Today the River Cities Moody Radio Committee is an active supporter and promoter of Moody Radio in Gallipolis and Point Pleasant, West Virginia.

Gallipolis was founded by French immigrants in 1790. The original settlement was carved out of the wilderness by 36 woodsmen from New England who were hired to build 80 log houses and four blockhouses along the Ohio River. By the mid-1800s, most of the original settlers and many of their descendants had moved on or died, but Gallia County still bears the vestiges of the French to this day. Gallipolis is known nationally for several of its citizens including famous restaurateur and sausage-maker Bob Evans. The original Bob Evans Farm is located in nearby Rio Grande site of the annual Bob Evans Farm Festival.
---
Coverage Map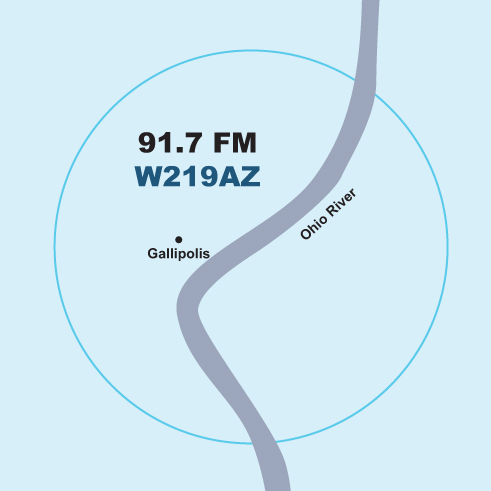 Download our App
Take Moody Radio or Radio Moody with you wherever you go!
● Hear your local station
● Stream your favorite programs
● Enjoy Christian music

Download the Moody Radio app from iTunes, or Google Play today!