This site uses cookies to provide you with more responsive and personalized service and to collect certain information about your use of the site. You can change your cookie settings through your browser. If you continue without changing your settings, you agree to our use of cookies. See our Privacy Policy for more information.
Gettysburg, S.D.
About
Gettysburg, S.D. – the sister city to Gettysburg, Pa. – is about 49 miles north of the S.D state capital of Pierre and is the county seat of Potter County. The main economy of Gettysburg revolves around farming and agri-business. Recreational sports such as fishing, hunting and boating are very popular in this area.

The Moody Satellator here was originally built from a special project fund at Grace Community Church in the early 1990s. Grace Community Church continues to financially support this Moody Satellator. The Gettysburg Satellator covers much of Potter County and also reaches into northern Sully County. The Moody Radio signal also reaches Lebanon, about 10 miles to the northeast, and Agar, about 12 miles southwest. In early 2012, the Gettysburg Satellator moved from its original frequency of 90.7 FM to its current frequency of 90.1 FM.

To learn more about the ministries of Moody Radio, including its history, leadership and distinctives, visit Moody Radio's website.
---
Coverage Map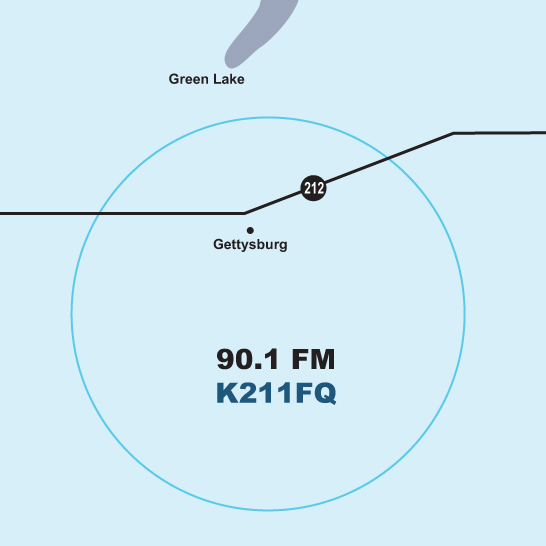 Download our App
Take Moody Radio or Radio Moody with you wherever you go!
● Hear your local station
● Stream your favorite programs
● Enjoy Christian music

Download the Moody Radio app from iTunes, Google Play or the Amazon app store today!