This site uses cookies to provide you with more responsive and personalized service and to collect certain information about your use of the site. You can change your cookie settings through your browser. If you continue without changing your settings, you agree to our use of cookies. See our Privacy Policy for more information.
Mitchell, Indiana
Moody Radio first came to Mitchell, Indiana as a Satellator with 13-watts of power on 89.9 FM in February 1994, and it covered much of Lawrence County. 1,000-watts was added to an upgraded Mitchell tower site on 88.1 FM on August 22, 2001, and can now be heard as far south as Salem and north beyond Bloomington to the main campus of Indiana University. The Mitchell Satellator now carries programming originating from Moody Radio Indiana in Anderson, as well as original Moody Radio programming from Chicago.

Mitchell was founded in the 1850s at the point where the New Albany and Salem Railroads crossed the proposed line for the Ohio and Mississippi Railroad. In the late 1900s its downtown area was defined as a historic district, listed on the National Register of Historic Places. Mitchell is known for being the birthplace of astronaut Virgil "Gus" Grissom (1926-1967). Selected as a member of NASA's Project Mercury space program, Grissom was the second American to ever fly in space. He later flew aboard Gemini 3, making him the first person to fly in space twice.
---
Coverage Map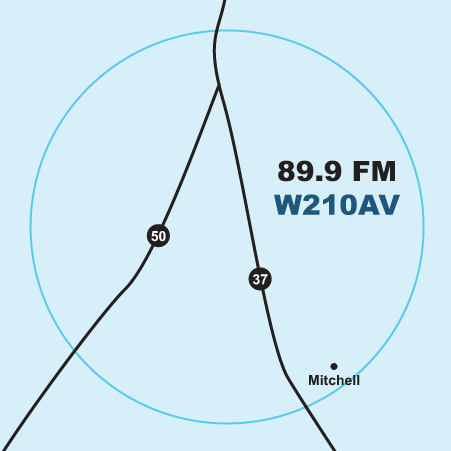 Download our App
Take Moody Radio or Radio Moody with you wherever you go!
● Hear your local station
● Stream your favorite programs
● Enjoy Christian music

Download the Moody Radio app from iTunes, Google Play or the Amazon app store today!