About Michael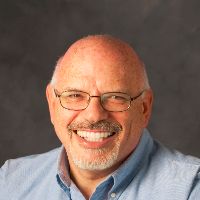 Dr. Michael Rydelnik is professor of Jewish Studies at Moody Bible Institute and the Bible teacher on Moody Radio's Open Line, answering listener Bible questions on over 200 stations nationwide. The son of Holocaust survivors, Michael was raised in an observant Jewish home in Brooklyn, N.Y. As a high school student, Michael became a follower of Jesus the Messiah and began teaching the Bible almost immediately.
He is the author of Understanding the Arab Israeli Conflict: What the Headlines Haven't Told You and The Messianic Hope: Is the Hebrew Bible Really Messianic? He is the co-editor of The Moody Bible Commentary, a commentary on the whole Bible by the faculty of Moody Bible Institute. Michael served on the translation team of the Holman CSB Bible and contributed to several other books and study Bibles. Michael is a regular contributor to the Day of Discovery television program and appeared in the Lee Stroebel video, The Case for Christ.
Michael and his wife, Eva, live in Chicago, Ill. They love leading groups to Israel to study the Bible on location from Dan to Beersheba. They also enjoy old movies, classic literature and hiking in the Adirondack Mountains with their two collies. The Rydelnik's have two adult sons who call and write all the time.
For more information about Michael, please visit his website.
Chosen People Ministries
Chosen People Ministries exists to pray for, evangelize, disciple and serve Jewish people everywhere and to help fellow believers do the same. The mission was founded in Brooklyn, New York in 1894 by Rabbi Leopold Cohn, a Hungarian Jewish immigrant with a zeal to share the knowledge of Yeshua (Jesus) the Messiah with God's chosen people.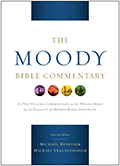 The Moody Bible Commentary
Now you can study the Bible with the faculty of the Moody Bible Institute! Imagine having a team of 30 Moody Bible Institute professors helping you study the Bible. Now you can—with this in-depth, user-friendly one-volume commentary. Scripture being commented on is shown in bold print for easy reference, and maps and charts provide visual aids for learning. Additional study helps include bibliographies for further study and a subject and Scripture index.
General editors Michael Rydelnik and Michael Vanlaningham have led a team of contributors whose academic training, practical church experience, and teaching competency make this commentary excellent for anyone who needs help understanding the Scriptures. This comprehensive and reliable reference work should be the first place Sunday school teachers, Bible study leaders, missionaries, and pastors turn to for biblical insight. The Moody Bible Commentary will help you better understand and apply God's written revelation to all of life!