July 03, 2023
Hour 1: The Gift of God's Word - with Brad Baurain
Almost everything we see in the world around us will eventually wear out and die. The grass fades. Flowers wilt. Stars burn out. Pens run out of ink. Cars break down. Technology becomes outdated. everything must decay and die. Scripture tells us that one thing stands in sharp contrast to the transitory nature of this world: "the word of our God endures forever" (Isa. 40:8). On Monday's Mornings with Eric and Brigitte, Brad Baurain, Associate Professor at MBI and our devotional author this month reminds us that God's Words are eternal, and they will be fulfilled or proved true. We can trust God's Word absolutely.
The Gift of God's Word - July 2023 Today in the Word
Hour 2: The Image of God: Protecting the Dignity of All Human Life - with Benjamin Watson
On Monday's Mornings with Eric and Brigitte, former NFL Player, Super Bowl Champion and philanthropist, Benjamin Watson joins us to talk about a new curriculum to help provide churches and individuals Stand for Life and believe that every person has inherent dignity and value. Stand for Life affirms and protects the dignity of all human life. It engages, educates and equips others to build a culture that believes everyone is made in the image of God, has inherent value and should be treated with dignity and respect.
Hour 3: The Impact of the Life and Legacy of Howard Hendricks - with Maina Mwaura
Almost always when we study the lives of strong leaders we find that they have led a challenging life and struggled much, but with courageous faith. On Monday's Mornings with Eric and Brigitte, writer and journalist Maina Mwaura noticed an intriguing pattern while interviewing hundreds of prominent leaders: many of them were deeply shaped by longtime Dallas Theological Seminary professor Howard Hendricks. Mwaura's new book, The Influential Mentor: How the Life and Legacy of Howard Hendricks Equipped and Inspired a Generation of Leaders combines the reality of struggle with the audacity of faith to empower others to lead in a manner worthy of Jesus Christ and His gospel.
IN THIS EPISODE
Dr. Bradley Baurain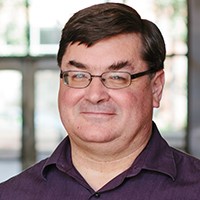 Dr. Bradley Baurain
Brad Baurain is an associate professor at Moody Bible Institute and Moody Theological Seminary. He currently leads the TESOL programs at Moody Bible Institute in Chicago. He is the author of Religious Faith and Teacher Knowledge in English Language Teaching, co-editor of the International Journal of Christianity and English Language Teaching, and writes devotional studies for Moody's Today in the Word.
Benjamin Watson
Benjamin Watson
Benjamin Watson is a former NFL tight end. Now retired, Watson's career included playing for the New England Patriots, Philadelphia Eagles, Cleveland Browns, Baltimore Ravens, and New Orleans Saints. He retired from the NFL after the 2018 playoffs. Since his retirement, he stays busy with his foundation, One More, and enjoys time with his family. He is married to his wife, Kirsten, and they have seven children. He is now the Vice President of Strategic Relationships of the Human Coalition. Human Coalition is a champion of life, committed to an audacious mission: to transform our culture of death into a culture of life—to end abortion in America.
Maina Mwaura
Maina Mwaura
Maina Mwaura is a freelance writer and journalist who has interviewed over 500 influential leaders, including two US Presidents, three Vice-Presidents, and a variety of others. He has learned what it takes to not only lead well, but to mentor well. Maina and his family attend High Point Church in the Kennesaw, Georgia area.