February 18, 2019
To Apologize is Human

"To Err is Human" as the saying goes… What if to apologize is human? How many times do we, in a day say an unkind word to a co-worker, spouse or a friend? It happened to me yesterday. I couldn't find my black jeans. Where on earth could my black jeans have gone! My husband started to help and was making suggestions about where I could have misplaced the pants. I snapped a rude remark at him. He looked at me, stopped searching for the denim I had lost and said, "well that wasn't very nice". At that moment I had the opportunity to apologize or to brush it off and excuse the snappy remark as "ok" since I was frustrated. I had the opportunity to tell my husband that I see how kind, thoughtful, and loving he is and doesn't deserve to be treated that way or I can brush it off as not that big of a deal.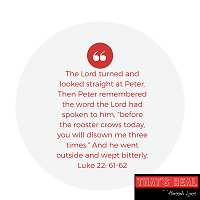 I am constantly saying the wrong thing, being snappy, and losing things. To be honest, I am just trying to figure out life. Recently, I have found it really easy to apologize, because I feel so human. This happens especially when I forget my keys in the car or I forget to pay rent. Here's what I've noticed, this has actually been helping my friendships. As soon as I feel more confident in life, however, I start to not realize when I am in the wrong.
This has me thinking… Does God apologize? I know this is a weird question. But my argument would be no. He doesn't. He's perfect. Our struggle, however, goes back to Genesis 3 when Adam and Eve wanted to be like God and ate the apple. On the other side of the story, there's Peter who betrayed Jesus and David who confessed to being an adulterer. Peter lied and said he never knew Jesus. David killed a man to take the man's wife for his own.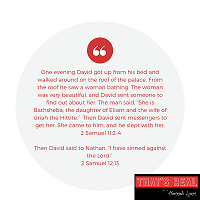 Both did something very wrong and later apologized. Their stories have gone down in the books as examples of people who were very human but who God glorified himself in the end.
Have you been noticing when you are in the wrong? Good! Pray that God will use your human moments to glorify himself and maybe that starts with an apology.