January 11, 2023
Hour 1: A Prepared Devotional Thought with Doug Rowland
What are the topics and messages that area Pastors are sharing with their congregations in our community? Every week we have the privilege of sitting under the teaching of an area Pastor or ministry leader on Ken and Deb in the Morning! This week Pastor Doug Rowland from Rock Island Bible Church will be here with his timely message and encouragement for early 2023!
Hour 2: In Good Time: A Conversation with Jen Pollock Michel
Are you a student of time management? Have you ever questioned the assumptions of the time management industry? Jen Pollock Michel invites us into a "time-counterformation" by recovering a Christian vision of time. If you are feeling unfruitful or unsatisfied with doing more and doing it faster, join this refreshing perspective that puts forth practices that lead to fruitfulness and faithfulness to God and our neighbor.
Hour 3: Project Heat and Hope: A Conversation with Michael Johnson and Igor Bandura
You see the war's devastation in Ukraine and you ask, "how can we help?" We are going to hear the answer to that question this morning as we visit with Michael Johnson and Igor Bandura who will share with us how you can help Ukrainians find refuge in local churches, now winter warmth centers. Learn how the body of Christ in Ukraine is reaching out, meeting needs, and sharing hope in the midst of war and winter in this conversation on Ken and Deb in the Morning.
Hour 4: Thriving at Work: A Conversation with Dr. Paul White
What would make for more fruitfulness, satisfaction, and purpose at work this year? How can you help make it a great year at your workplace? What's the importance of goal setting? How do we stay connected and excited if we work from home? Appreciation in the Workplace author and psychologist Paul White offers strategies for thriving at work in 2023 on Wednesday's Ken and Deb in the Morning!
IN THIS EPISODE
Michael Johnson
Michael Johnson
Michael Johnson is president of Slavic Gospel Association (SGA), a nearly 90-year-old ministry that partners with hundreds of missionaries and more than 6,000 evangelical churches across Russia and the former Soviet Union. After a 14-year hiatus as a consultant to other faith-based nonprofits, and with the encouragement of his wife, Erin, Johnson returned to lead SGA as its new president in 2017. Since taking the helm of SGA, Johnson has prioritized expanding the mission's partnerships with local evangelical churches and pastors across the former Soviet bloc, a vast region of 290 million people stretching more than 4,000 miles from Eastern Europe to the Bering Strait off the coast of Alaska.
Dr. Paul White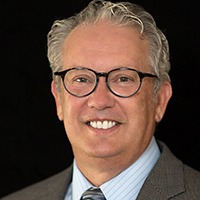 Dr. Paul White
Dr. Paul White is a psychologist, author, speaker and consultant who, for over two decades, has helped countless businesses and organizations make work relationships work. Co-author of The 5 Languages of Appreciation in the Workplace (written with #1 New York Times bestselling author Dr. Gary Chapman), he has given lectures around the world.