May 17, 2021
Conflict in Israel – Jim Denison
Cultural apologist Dr. Jim Denison helps people respond biblically and redemptively to the vital issues of our day. He joined us to discuss the latest on the conflict in Israel and four biblical responses. ☕ Save the date! This FRIDAY at 9:15 am ET—after Kurt and Kate Mornings—plan to join us on Facebook Live (or YouTube) for a conversation with the host of Chris Fabry Live on our next Coffee with Kurt and Kate (virtual edition).
IN THIS EPISODE
Dr. Jim Denison
Dr. Jim Denison
He is the co-founder and Chief Vision Officer of the Denison Forum, a Dallas-based nonprofit that comments on current issues through a biblical lens. Every weekday morning, his Daily Article email newsletter reaches more than 240,000 readers. He is the author of multiple books, including Bright Hope for Tomorrow: How Jesus' Parables Illuminate Our Darkest Days, Respectfully, I Disagree: How to Be a Civil Person in an Uncivil Time, and the Biblical Insight to Tough Questions series. Dr. Denison has taught on the philosophy of religion and apologetics at several seminaries. His residencies and fellowships include Resident Scholar for Ethics with Baylor Scott & White Health, Senior Fellow with the 21st Century Wilberforce Initiative, and Senior Fellow for Cultural Studies at Dallas Baptist University's Institute for Global Engagement. Jim and his wife, Janet, live in Dallas, Texas. They have two sons and four grandchildren.
Dr. Jim Coakley
Dr. Jim Coakley
Dr. Jim Coakley has taught at Moody Bible Institute, specializing in Old Testament and Biblical Languages, since 1999. Prior to Moody he was involved in pastoral ministry for thirteen years. He has traveled to Israel multiple times as a tour leader and has also toured throughout Turkey, and recently Egypt too. He was a contributor to The Moody Bible Commentary and Moody Radio's The Land and the Book program.
Josh Hayenga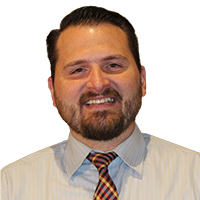 Josh Hayenga
Josh accepted the call to serve the Lord as Moody Radio Florida's Chief Engineer in July, 2019. Josh enjoys helping others, solving problems, and serving the Lord in his local church. Josh's goal is to grow where God has planted him and to be a blessing to those around him.