May 04, 2021
The Relationally Intelligent Child – Dewey Wilson
LifeChoices Family Medical's Dr. Mariana Girón joins us to answer some medical questions this morning. Their clinic gives free annual physicals, paps, and labs to uninsured women.
Plus, most parents today understand brokenness and loneliness when it comes to relationships. Then comes the need to teach relationship skills to their children! Having experienced isolation and loneliness on their own, parents can be terribly aware of how much their own children need and long for relationships. We're taking a look at the importance of what's called "relational intelligence" with Dewey Wilson. Resource from Moody Publishers: The Relationally Intelligent Child: Five Keys to Helping Your Kids Connect Well with Others by John Trent, Ph.D. and Dewey Wilson, Ph.D.
Enter for your opportunity to win a curated selection of handmade goods and resources for Mother's Day.
IN THIS EPISODE
Dr. Mariana Girón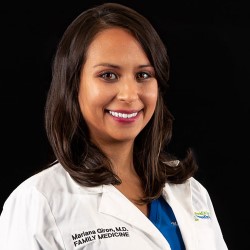 Dr. Mariana Girón
Dr. Girón is Medical Director at LifeChoices Family Medical in Lutz, Fla. She's a board-certified family medicine physician with an obstetrics fellowship. She grew up in Colombia and is fluent in Spanish. Dr. Girón received her undergraduate degree from Cornell University and her medical degree from the University of Pennsylvania. She went on to complete her residency and fellowship training at John Peter Smith Hospital in Fort Worth, TX.
Dewey Wilson
Dewey Wilson
Dewey Wilson serves a President and CEO of Strong Marriages. Dewey returned to college after 30 years and graduated with a BS in religion in December 2011, a Master of Arts in Marriage and Family in 2013, and his Ph.D. in the Philosophy in General Psychology with an emphasis in Cognition and Instruction in May 2019.