April 27, 2021
MBI Giving Day – Mark Jobe
Your partnership with Moody Bible Institute means students will graduate with less debt and can accelerate more expediently into serving God wherever He has called them. You can do that by going to www.MoodyGivingDay.org or by calling 1-800-600-9624. MBI President Mark Jobe dropped by to chat about this in the 8 am hour.
Plus, LifeChoices Family Medical's Dr. Mariana Girón joined us to answer some medical questions, and share a bit more on fertility awareness based methods of birth control. Their clinic gives free annual physicals, paps, and labs to uninsured women.
IN THIS EPISODE
Dr. Mariana Girón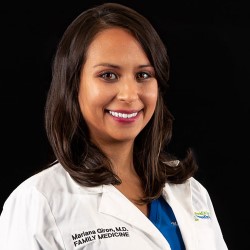 Dr. Mariana Girón
Dr. Girón is Medical Director at LifeChoices Family Medical in Lutz, Fla. She's a board-certified family medicine physician with an obstetrics fellowship. She grew up in Colombia and is fluent in Spanish. Dr. Girón received her undergraduate degree from Cornell University and her medical degree from the University of Pennsylvania. She went on to complete her residency and fellowship training at John Peter Smith Hospital in Fort Worth, TX.
Dr. Mark Jobe
Dr. Mark Jobe
Dr. Mark Jobe is Moody Bible Institute's 10th president. For over 30 years, Dr. Jobe has served as the lead and founding pastor of New Life Community Church in Chicago. He is also the founder of New Life Centers, an organization focused on helping youth in underserved areas of Chicago. He is the author of Unstuck: Out of Your Cave and Into Your Call (Moody Publishers) and the host of Bold Steps, a program heard on Moody Radio. He holds a master's degree from Moody Theological Seminary and a doctorate from Bakke Graduate University.