August 31, 2020
IN THIS EPISODE
Michel Hendricks
Michel Hendricks
Michel Hendricks (M.Div., Denver Seminary) has been a teacher and trainer for more than 25 years. He is the former pastor of spiritual formation at Flatirons Community Church in Lafayette, Colorado. He has also served and trained people in Argentina, Bolivia, Mexico, Kenya, South Sudan, and Uganda. He is the author of Basic Training for Walking With Jesus and Intentional Apprenticeship and co-author of The Other Half of Church. He and his wife, Claudia, have three adult children.
Dr. Michael Rydelnik
Dr. Michael Rydelnik
Dr. Rydelnik is professor of Jewish Studies at Moody Bible Institute and the Bible teacher on Moody Radio's Open Line answering listener Bible questions (Saturday mornings 10–Noon ET). The son of Holocaust survivors, he was raised in an observant Jewish home in Brooklyn, N.Y., and became a follower of Jesus the Messiah during his high school years. He's the author of several books, and co-editor of The Moody Bible Commentary.
Josh Hayenga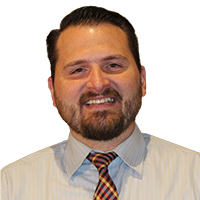 Josh Hayenga
Josh accepted the call to serve the Lord as Moody Radio Florida's Chief Engineer in July, 2019. Josh enjoys helping others, solving problems, and serving the Lord in his local church. Josh's goal is to grow where God has planted him and to be a blessing to those around him.