April 08, 2020
Digital Easter with John Dyer and Bill Thrasher
As 93 percent of churches in the United States are holding online-only services due to the coronavirus outbreak, the majority of the congregations will celebrate Easter digitally, according to two studies.
Dr. John Dyer from Dallas Theological Seminary joins us to chat about technology and the way we're "doing church." Plus, Moody Theological Seminary's Dr. Bill Thrasher helps us with, Putting God Back in the Holidays, as we celebrate Easter with purpose.
And, it's Relationship Wednesday with Dr. David Clarke! We'll talk about Coronavirus Couple Time… and dealing with the fallout of the virus when it comes to our kids.
---
Look to Moody Radio for daily encouragement during the coronavirus crisis.
---
IN THIS EPISODE
Dr. John Dyer
Dr. John Dyer
John currently serves as the dean of Enrollment Services and Educational Technology and is an adjunct professor in Media Arts and Worship at Dallas Theological Seminary. His desire to glorify God by showing how creativity is an important aspect of our role as image bearers, drives John's work and teaching. A former youth pastor, he enjoys working with students to see how the biblical story brings insight and clarity to the ideas found in science, sociology, and culture. He is the author of From the Garden to the City: The Redeeming and Corrupting Power of Technology. John loves his wife, Amber, and their two beautiful kids. He also enjoys coffee, technology, Star Wars, and JavaScript.
Dr. Bill Thrasher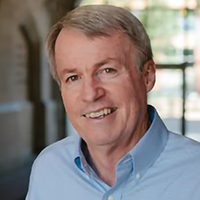 Dr. Bill Thrasher
William D. Thrasher (B.S., Auburn University; Th.M., Th.D., Dallas Theological Seminary) is Professor of Spiritual Formation at Moody Theological Seminary and is a frequent speaker for churches and retreats across the country. His ministry interests include campus discipleship, singles ministry, and evangelism. His books include God as He Wants You to Know Him, Believing God for His Best, A Journey to Victorious Praying, Principles of Christian Living from Romans 5-8, The Attributes of God in Pauline Theology, and Living the Life God Has Planned.
Dr. David E. Clarke
Dr. David E. Clarke
Dr. David Clarke is a Christian psychologist, speaker, and the author of a dozen books, including Honey, We Need to Talk and My Spouse Wants Out. A graduate of Dallas Theological Seminary, Western Conservative Baptist Seminary, and Point Loma College, he has been in full-time private practice for over 30 years. He lives in Tampa, Florida.