January 31, 2020
Coffee with Kurt and Kate / Lighthouse Ministries
We'd love to have you join us today from 6–10 a.m. in Brandon! We're doing the show LIVE at Lighthouse Ministries Family Store at 535 E. Brandon Blvd (corner of Brandon Blvd and Bryan Road). Get your Kurt and Kate Coffee Tumbler while supplies last. We'll also throw in our special Kurt and Kate Coffee Blend courtesy of DignityRoasters.com. Also, every half hour we're giving away a Moody Radio Prize Bag. PLUS, after the show at 9 a.m., join us for great coffee and some good conversation thru 10 a.m.
Join us today in Brandon for Coffee with Kurt and Kate from 6–10 a.m.!
---
Also, check out the upcoming Moody Estate Planning Seminars coming to Naples, Sarasota, Lakeland, and Tampa.
---
IN THIS EPISODE
Steve Turbeville | Lighthouse Ministries
Steve Turbeville | Lighthouse Ministries
President & C.E.O. of Lighthouse Ministries, Inc. This Lakeland based group began in 1977 to aid the poor, homeless, and at-risk in Polk County. Since then, they have helped men, women, and children get off the streets, find the Lord, and rejoin society.
Ken and Wendy Kebrdle | Wear Gloves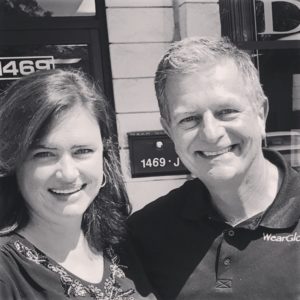 Ken and Wendy Kebrdle | Wear Gloves
Wear Gloves is dedicated to helping those in need earn what they need. Through the Dignity Center, Dignity Roasters, and Church in the Garden, our team facilitates environments where we can better love those that God puts in our path. What's behind the name? Matthew 9:37 says: "The harvest is plentiful, but the workers are few…" At Wear Gloves, we are ready to put on our gloves and get to work.