July 24, 2019
Small is Big When God Is In It
As Kurt says, small becomes big when God is in it. Pastor Miguel Parcedes learned this first hand when God gave him a vision to start wearing a T-Shirt with the simple slogan, "Tap me if you need prayer." Now, he and his wife Betsy are leaders of an international ministry, from which thousands of people are sharing their prayer. You can find out more at Tap Me If You Need Prayer. Then, we talked with Diane Williams and her daugther Rochele Weems. Diane is otherwise known as the Jesus Cares Lady, who started her ministry on the streets of Tampa Bay with a sign and a bright smile - "Jesus Cares."
Join the conversation: Call in or text us at 1-888-777-6810.
IN THIS EPISODE
Miguel and Betsy Paredes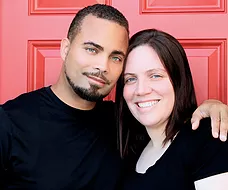 Miguel and Betsy Paredes
Miguel and Betsy are founders of Zealous Christian Ministries, Inc. the nonprofit hub for Tap Me If You Need Prayer initiative, are Hispanic from New York. Currently, they attend The Father's House Church in Leesburg, Florida.