June 03, 2019
Storms
Well, it's that time of year again! Hurricane season is officially underway and there's a lot to talk about. Meteorologist Alan Winfield spends some extended time with us to cover everything in depth! Got a hurricane-related question for him?
Plus, we hear from Commander Scott Price, a senior NOAA WP-3D Hurricane Hunter pilot too!
Join the conversation: Call in or text us at 1-888-777-6810.
IN THIS EPISODE
Meteorologist Alan Winfield
Meteorologist Alan Winfield
Alan received his bachelor's degree in meteorology from Penn State University and his master's degree from the University of Oklahoma, earning him the American Meteorological Seal. He started his TV career at the NBC affiliate in Tulsa, then went on to WTVR-TV in Richmond, Va.; KSTW in Seattle, Wash., and Bay News 9 in Tampa, Fla. He joined Moody Radio in April 2002. Alan also has a master of divinity degree from Trinity Theological Seminary. He serves as associate pastor at North Dunedin Baptist Church, and is author of Lord Of The Skies.
Commander Scott Price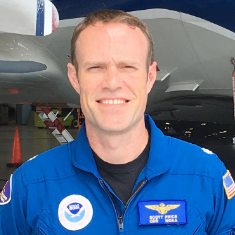 Commander Scott Price
NOAA WP-3D Hurricane Hunter pilot. Commander Price is also the chief of safety standardization and training for the nine aircraft and 110 personnel at NOAA's Aircraft Operations Center in Lakeland, Florida.