June 09, 2021
Hour 1: Embracing Uncomfortable Conversations: A Conversation with Dr. Deb Gorton
Counselor Deb Gorton joins Ken and Deb to offer effective strategies for those "tough talks" we need to have with those closest to us. It may seem more comfortable to just let those little irritants slide and sweep the "issues" under the rug, but will that make for a healthy relationship? Deb helps us think through the importance of being honest with ourselves and our loved ones, making the decision to embrace the uncomfortable and build stronger relationships.
Hour 2: Voice of the Martyrs Update with Todd Nettleton
Almost every Christian in this nation is under pressure to renounce their faith, and yet, the gospel is going forward. Todd Nettleton from Voice of the Martyrs fills us in on the persecution and the gospel harvest in China. Todd will also share a good news story from Pakistan and you'll hear about an opportunity to hear more stories from Todd with a special offer from Voice of the Martyrs. Listen in to stay up to date on how to be specifically praying and ways to help persecuted brothers and sisters around the world.
IN THIS EPISODE
Dr. Deb Gorton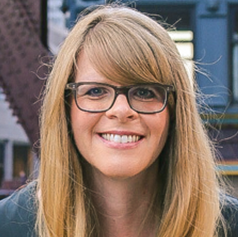 Dr. Deb Gorton
Dr. Deb Gorton directs the Clinical Mental Health Counseling program at Moody Theological Seminary, as well as the MTS Counseling Center. Author of Embracing Uncomfortable (Moody Publishers), she also serves as the Gary D. Chapman Chair of Marriage, Family Ministry, and Counseling of the Moody Bible Institute of Chicago. She is also the co-host of the Becoming Well podcast through Moody Radio where you can discover how the truth of God's Word intersects with your mental health and well-being. Dr. Gorton works as a change agent for individuals, organizations, and emerging leaders, helping them refine and embrace their purpose. She earned a PhD in Clinical Psychology from Fuller Graduate School of Psychology.
Todd Nettleton
Todd Nettleton
Todd Nettleton is Director of Media Development for The Voice of the Martyrs, working with the media to tell the stories of persecuted Christians to people in the United States. In his role with VOM, he has met with Christians who face persecution in many countries, including Sudan, China, Egypt, Turkey, Vietnam, Pakistan, Indonesia, Uzbekistan, Tajikistan, Bangladesh, Myanmar (Burma) and Azerbaijan.