December 16, 2020
Hour 1: Todd Nettleton: Voice of the Martyrs
As we gather to celebrate Christ's birth this season, we want to remember those in our family who are enduring great suffering because of their faith in Jesus. Every other Wednesday we visit with Todd Nettleton from Voice of the Martyrs to share stories from brothers and sisters around the world and how we can be both lifting them up in prayer and encouraging them through our letters and care packs. Be listening for this week's latest news from the persecuted church as Todd joins us for his last visit of 2020 on Wednesday.
Hour 2: Dr. Brad Baurain: Living in Hope
What does the world need the most this 2020 Christmas? If one of your answers is hope, you'll want to join Ken and Deb for a discussion on how we can live in hope with Dr. Brad Baurain. Dr. Baurain wrote this month's devotionals for Advent in Today in the Word and he'll be joining Ken and Deb Wednesday to infuse our morning and our thoughts with hope as we head toward the celebration of Christ's birth.
Hour 3: Mid-Morning Show Coffee Break
t's a Mid-Week, Mid-Morning Show Coffee Break!
Be ready to hear how you can win today's Christmas Quiz!
IN THIS EPISODE
Todd Nettleton | Voice of the Martyrs
Todd Nettleton | Voice of the Martyrs
Todd Nettleton is the Chief of Media Relations and Message Integration for The Voice of the Martyrs and the host of The Voice of the Martyrs Radio. Todd serves as a voice for persecuted Christians, working with the media to tell people in the United States about the faithfulness of Christ's followers in 60+ nations where they face persecution. During 19 years serving at VOM, Todd has traveled to more than 20 nations to interview hundreds of Christians who have endured persecution.
Dr. Bradley Baurain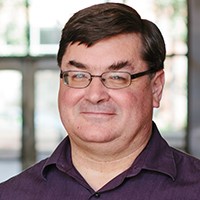 Dr. Bradley Baurain
Brad Baurain is an associate professor at Moody Bible Institute and Moody Theological Seminary. He currently leads the TESOL programs at Moody Bible Institute in Chicago. He is the author of Religious Faith and Teacher Knowledge in English Language Teaching, co-editor of the International Journal of Christianity and English Language Teaching, and writes devotional studies for Moody's Today in the Word.