October 13, 2020
Hour 1: Bradley Baurain: On Waiting Well
What does the Bible say about waiting? Is waiting in the Bible a chore or a joy? Is it possible to do more than endure times of waiting in our lives? Tuesday we explore the perspective of waiting in the Bible with guest Bradley Baurain, who will help us transform our tendency to just grit our teeth in the waiting to actually enjoying the process.
Hour 2: Jason Crosby: Psalm 23
Join with Station Manager Jason Crosby Tuesday as he continues to walk us thru a study of Psalm 23. Today Jason will look at the journey that we will all take through the valley of the shadow of death and how the Shepherd's rod and staff brings comfort in that journey.
Hour 3: Mid-Morning Show Coffee Break
Catch up on the Mid-Morning Show Coffee Break
What type of M&M is your favorite?
IN THIS EPISODE
Dr. Bradley Baurain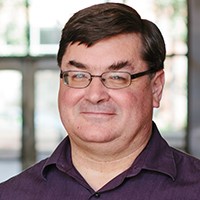 Dr. Bradley Baurain
Brad Baurain is an associate professor at Moody Bible Institute and Moody Theological Seminary. He currently leads the TESOL programs at Moody Bible Institute in Chicago. He is the author of Religious Faith and Teacher Knowledge in English Language Teaching, co-editor of the International Journal of Christianity and English Language Teaching, and writes devotional studies for Moody's Today in the Word.
Jason Crosby
Jason Crosby
Jason was born in Moline, Ill., and was raised in Moline and in Minneapolis, Minn. He attended Northwestern College in St. Paul, Minn. where he graduated in 2001 with a bachelor's degree in Broadcasting and Electronic Media and a second degree in Bible. Jason joined Moody Radio in 2005 as the News Director and a producer on the morning show. He left in 2008 to pursue a master's degree at Southeastern Baptist Theological Seminary in Wake Forest, N.C. In June of 2012, Jason gradated with a Master of Divinity degree in Expository Preaching. He rejoined Moody Radio in September 2012 as the operations coordinator and temporary co-host of the morning show. He was named station manager in January 2013.
Jason and his wife, Suzy, have been married since 2007 and have two children. He enjoys spending time with friends and family, ready, playing slow-pitch softball and hearing stories of God at work. By far, his favorite activity is preaching and teaching the Bible, and he is available to speak at your church or event. You can call the station or shoot him an e-mail to check on his availability.