September 21, 2020
Hour 1: Ellen Vaughn; Becoming Elisabeth Elliot
Elisabeth Elliot was one of the most courageous and influencial Christian women in the past century, and yet many young women today have not heard of her or her legacy. Our guest today is hoping her biography on Elisabeth's early life will introduce her to a whole new generation that is longing for an example of sold- out, uncompromising faith. Ellen Vaughn will join Ken and Deb to talk about the young Elisabeth Elliot and what women today can learn from her life and ministry.
Hour 2: Janet Paschal: The Quad Cities Prayer Breakfast
The 26th Annual Quad Cities Prayer Breakfast is going forward this year and the musical guest for this year's breakfast is gospel artist Janet Paschal. Janet has released 16 solo albums, and has had multiple Grammy and Dove award nominations including Female Vocalist of the Year. She is also the songwriter numerous radio hits including "God Will Make A Way" and "Written in Red." Be listening Monday as we hear how God is working in her life during this season and what advice she would pass on to this new generation of Christian artists.
Hour 3: Mid-Morning Show Coffee Break
Catch up on the Mid-Morning Show Coffee Break
IN THIS EPISODE
Ellen Vaughn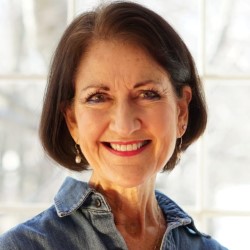 Ellen Vaughn
Ellen Vaughn is a New York Times bestselling author and speaker who has written or co-written 23 books. Former vice president of executive communications at Prison Fellowship, she collaborated with the late Chuck Colson on a number of his seminal works. She speaks at conferences, often travels to interview Christ-followers in hostile parts of the world, and serves on the board of directors for ICM, the global church developer. With degrees from Georgetown University and the University of Richmond, Ellen lives in northern Virginia with husband Lee, a regional pastor for McLean Bible Church, a daughter and two grandchildren, and one clueless dog.
Janet Paschal
Janet Paschal
Janet Paschal is an inspirational gospel vocalist and writer, often hailed as one of the most soulfully versatile voices in Christian Music. Janet's travels have taken her to seven continents, performing in such venues as Carnegie Hall, The Kennedy Center, and the Sydney Opera House. She started a radio program, Walking The Good Road, which airs on more than 30 stations in the U.S. and Canada.In May, 2019, Janet was inducted into the Gospel Music Association Hall of Fame in Nashville, Tennessee. It is the association's highest award, and she celebrated it with longtime friends and family.