September 11, 2020
Hour 1: Derwin L. Gray: The Good Life
Would you like to live the good life? What does that really look like? How can we bring the good life to others? Friday we visit with former NFL player, Pastor Derwin Gray. Derwin will share about his journey for happiness and what he discovered was the source of true blessing. He'll also show us how we can be agents of peace in our communities, helping to foster healing and flourishing in our embattled cities.
Hour 2: Isabel Tom: The Value of Wrinkles
Granparents Day is coming Sunday and Friday we'll talk about the value of age and the importance of honoring the old. Isabel Tom will join the conversation, encouraging us to honor our parents and grandparent and value their contribution to our family and society. Isabel will offer ideas for how we can communicate our care and love to the elderly and how, in turn, we find incredible wisdom and blessing.
Hour 3: Mid-Morning Show Coffee Break
Catch up on the Mid-Morning Show Coffee Break!
Talking about Grandparent memories this morning!
IN THIS EPISODE
Derwin L. Gray
Derwin L. Gray
Dr. Derwin L. Gray is the founding and lead pastor of Transformation Church, a multiethnic, multigenerational, mission-shaped community in Indian Land, SC. Gray met his wife, Vicki, at Brigham Young University (BYU). They have been married since 1992 and have two adult children. After graduating from BYU, he played professional football in the NFL for five years with the Indianapolis Colts and Carolina Panthers. In 2008, Gray graduated from Southern Evangelical Seminary magna cum laude with a Master of Divinity and was mentored during that time by Dr. Norman Geisler. Gray received his Doctor of Ministry in the New Testament in Context at Northern Seminary.
Isabel Tom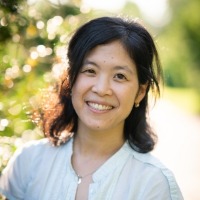 Isabel Tom
Isabel Tom is an author and speaker passionate about serving the older adult population. Between growing up in an intergenerational household and working in the field of aging, Isabel has over 35 years of experience with older adults. Her grandparents, who lived until 98 and 102, had a profound impact on her life. Professionally, she has over 13 years experience working at reputable healthcare organizations. She holds an MPH from the University of Maryland, College-Park. She has been married to her husband, Kevin, for ten years and they have three little ones who keep life fun.