May 21, 2020
Ken and Deb Mornings
Hour 1: Kelli Worrall: Graduation 2020
Graduating High School and College Seniors are beginning their summers in a totally unique situation. The ceremonies are virtual, the friends and families are not near, and the prospects of life returning to normal after summer is uncertain. How do you move forward as a high school graduate or a college graduate with hope and expectation instead of fear? Professor and author Kelli Worrall joins Ken to talk about the wisdom and insight she has gained from working with college students and from her own unique experience.
Hour 2: Stephen Kellough: College Prep for 2020
School this fall may look a lot different for students beginning their college experience, so what are some of the ways to prepare for a possible online college kick-off? Stephen Kellough has been a college Chaplain for over 2 decades and he will join us to share ideas on how to make connections with other students and get involved in campus ministry even if you're not on campus. It's encouragement for college freshman to stay the course and embrace the new learning experience on Thursday's Ken and Deb in the Morning.
IN THIS EPISODE
Kelli Worrall
Kelli Worrall
Kelli Worrall teaches writing and public speaking in the Communications Department of Moody Bible Institute in Chicago. She authored the popular article "20 Things I Wish I Had Known in My Late 20s," published in Relevant Magazine. She is a regular blogger and she and her husband, Peter, speak together at marriage, college, and young adult retreats. They are parents of Daryl and Amelia through adoption.
Dr. Stephen Kellough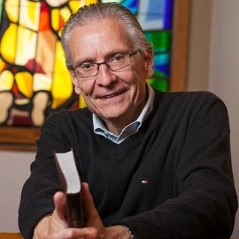 Dr. Stephen Kellough
Stephen Kellough is an ordained minister of the Presbyterian Church USA. He served for fifteen years in parish ministry before being called as Chaplain of Wheaton College in 1989. He retired from this position after serving for twenty-five years.