March 10, 2020
Hour 1: Jason Crosby; Following Jesus
What does a follower of Jesus do and give? Station Manager Jason Crosby will take us deeper into a study of Matthew 6. He will share with us the 3 things we need to do as followers of Jesus and the role giving plays in a follower's life. Be listening for this important discussion that will help clarify how we are to put our faith into action.
Hour 2: Ray Comfort: Gospel Heart
Although evangelist Ray Comfort is known for his method of sharing the Gospel, he says it's not always what he wants to do and he still battles fear. Despite this he prays that he will love people enough to tell them the good news of salvation in Jesus Christ. Be listening Tuesday as Ray outlines some of the strategies he uses to engage in Gospel conversations and the life and death importance of do so.
Hour 3: Isabel Tom: The Value of Wrinkles
Our culture may not value the wisdom of the elderly, but our guest today has a different story to share. Isabel Tom grew up living with her grandparents and has spent her career serving older adults. She is challenging our youth-obsessed society by showing us how to respect and honor the elderly and value the enrichment they bring to our lives.
Hour 4: Morning Show Devotional (03/10)
.
IN THIS EPISODE
Jason Crosby
Jason Crosby
Jason was born in Moline, Ill., and was raised in Moline and in Minneapolis, Minn. He attended Northwestern College in St. Paul, Minn. where he graduated in 2001 with a bachelor's degree in Broadcasting and Electronic Media and a second degree in Bible. Jason joined Moody Radio in 2005 as the News Director and a producer on the morning show. He left in 2008 to pursue a master's degree at Southeastern Baptist Theological Seminary in Wake Forest, N.C. In June of 2012, Jason gradated with a Master of Divinity degree in Expository Preaching. He rejoined Moody Radio in September 2012 as the operations coordinator and temporary co-host of the morning show. He was named station manager in January 2013.
Jason and his wife, Suzy, have been married since 2007 and have two children. He enjoys spending time with friends and family, ready, playing slow-pitch softball and hearing stories of God at work. By far, his favorite activity is preaching and teaching the Bible, and he is available to speak at your church or event. You can call the station or shoot him an e-mail to check on his availability.
Ray Comfort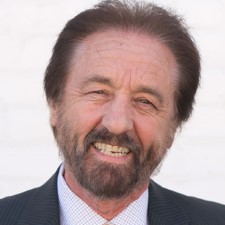 Ray Comfort
Ray is a New-Zealand-born Christian minister. He is the founder and CEO of Living Waters and a bestselling author of more than ninety books. He is also the producer of award-winning movies that have been viewed by millions.