August 22, 2019
Hour 1: Walking with Jesus on Campus
We've all heard stories of students who went off to college and ended up walking away from the faith. Although we often hear those kinds of stories, there are also students whose college experience becomes a time of rich and radical encounters with Jesus. What make the difference? We are going to explore that question and hear some of the truths that can transform college for the Christian as we hear from Stephen Kellough, a former chaplain at Wheaton College, on Thursday's Ken and Deb in the Morning.
Hour 2: Bless Your Pastor
Did you know that 60 percent of pastors receive no retirement, health care, or employee benefits from their church, and half of all pastors make less than $50,000 dollars per year? With these statistics it's no wonder that 90 percent of pastors feel financial stress! On Thursday's program we are going to hear about a new nationwide effort to Bless Your Pastor with Brian Kluth. Brian will share practical ways that you can bless your pastor and church staff not only in October, but all year long.
Hour 3: Morning Devotional
Ken's morning devotional comes from Henry T. Blackaby and Richard Blackaby's "Experiencing God Day-by-day: Devotional"
IN THIS EPISODE
Dr. Stephen Kellough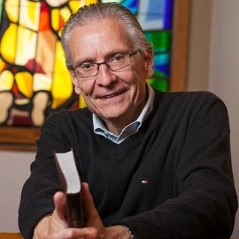 Dr. Stephen Kellough
Stephen Kellough is an ordained minister of the Presbyterian Church USA. He served for fifteen years in parish ministry before being called as Chaplain of Wheaton College in 1989. He retired from this position after serving for twenty-five years.
Brian Kluth
Brian Kluth
Pastor Brian Kluth is a Christian speaker and writer on generosity, God's provisions, and legacy living. His books and materials have over 650,000 copies in print and have been translated into over 40 languages.
Brian is the National Director for NAE's grant-funded NAEfinancialheath.org and BlessYourPastor.org programs to improve the financial health of pastors and generosity in churches. In 2009, he was called and commissioned by his church to become a Generosity Minister-at-Large to the world. His wife Sandi passed away after an 8-year cancer journey. He remarried a Christian woman whose spouse also had passed away. They make their home in Denver and have four young adult children.