May 02, 2019
Hour 1: The National Day of Prayer
On this National Day of Prayer we will be asking for you to lead us and join us in prayer for our Nation. We will visit with the President of the National Day of Prayer Dr. Ronnie Floyd who will challenge us to not only pray but live out this year's theme to Love One Another.
Hour 2: Chef Stefanie Godke
Join Chef Stephanie Godke Thursday as she introduces a new blondie perfect for spring and summer. The weather has been glum, but this new combination will be like a burst of sunshine and sweetness!
Hour 3: Morning Devotional
Ken's morning devotional comes from "Strength for the Journey: Day By Day With Jesus" by Joseph Stowell
IN THIS EPISODE
Dr. Ronnie Floyd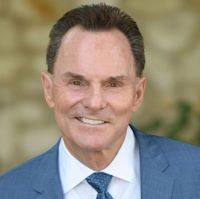 Dr. Ronnie Floyd
Since 1986, Pastor Floyd has served as the Senior Pastor of Cross Church, Northwest Arkansas, a multi-campus church. In Dr. Floyd's 30+ years of ministry in Northwest Arkansas, the church has baptized over 18,000 people. In 2001, First Baptist Church of Springdale became a multi-campus ministry with the beginning of The Church at Pinnacle Hills. In 2010, the church changed its name to Cross Church and now has three campuses in Northwest Arkansas: Springdale, Rogers, Fayetteville; and a campus in Neosho, Missouri. The church is committed to planting churches regionally, nationally, and internationally. Dr. Floyd also serves as the host/leader/speaker of The Summit businesspersons luncheon, equipping an estimated 400-700 businesspersons weekly.
Stephanie Godke
Stephanie Godke
Chef Stephanie Godke has had a long career in the restaurant industry. She enjoys sharing her original recipes on Ken and Deb in the Morning. She works as a local chef and is a consultant to restaurant owners all around the Midwest. She teaches cooking classes at the local community college and also provides catering services around the area. Some of her favorite recipes can be found in her latest cookbook, Recipes on Cody Road.