April 18, 2019
Hour 1: Fish Sandwiches
What is the only miracle, apart from the resurrection, that is recorded in all four Gospels? We will talk about that miracle Thursday as we visit with Troy Schmidt who got interested in studying this miracles because the account was mentioned by all the gospel writers. Troy has some insightful and timely insights from this well known miracle and he'll share some of them Thursday as he talks about Fish Sandwiches.
Hour 2: Dr. Brian Litfin
Today is Maundy Thursday and this morning we will hear about what is remembered on this day of Holy Week with Dr. Bryan Litfin. Dr. Litfin will talk about what Jesus was doing this day before His crucifixion as we learn more about the Last Supper and the ancient practice of footwashing. What lessons are being taught and how then should we live because of the example Jesus set for us? Join Ken and Deb as they talk about that question and many others surrounding Maundy Thursday with author Dr. Bryan Litfin.
Hour 3: Morning Devotional
Ken's morning devotional comes from www.CrossWalk.com. The devotional titled "Extreme" was written by Skip Heitzig
IN THIS EPISODE
Troy Schmidt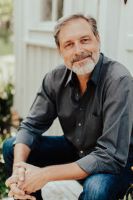 Troy Schmidt
Troy has served as Campus Pastor at First Baptist Church in Windermere Florida since 1997. He is a prolific writer with credits in publishing, television, and video. He has written a number of books for children and inspirational books for adults.
Bryan Litfin
Bryan Litfin
Dr. Bryan Litfin is a Professor of Theology at Moody Bible Institute. He grew up in Dallas, TX; Oxford, England; and Memphis, TN. He earned a degree in print journalism from the University of Tennessee, a master's degree in historical theology at Dallas Seminary, and a Ph.D. in the field of ancient church history at the University of Virginia. Bryan has written several books. He lives with his wife and two teenaged children in Wheaton, IL, and is a member of College Church in Wheaton.