March 26, 2019
Hour 1: How Then Should We Live
What if you knew today was the last day of your life? Knowing that, would you live your life any differently? Pastor Brian Bill from Edgewood Church in Rock Island will be encouraging us to consider what it looks like to live as if this is the last day of your life as he exhorts us from the book of James.
Hour 2: Holy Noticing
Do you daily spend time meditating on God's Word? How important is it to exercise the discipline of mindfulness? How does this practice enhance our mental and emotional health? On Tuesday's program Charles Stone, author of Holy Noticing, will answer these questions on this spiritual discipline that has been practiced by Christians since the first century and now the benefits are being uncovered by modern neuroscience.
Hour 3: Morning Devotional
Ken's morning devotional comes from "100 Days of Character" by Stephen Arterburn
IN THIS EPISODE
Brian Bill
Brian Bill
Brian Bill is the senior pastor at Edgewood Baptist Church in Rock Island, Illinois. He attended the University of Wisconsin in Madison, where he was led to the Lord through the influence of his college roommate. He is a graduate of Moody Bible Institute and Trinity Evangelical Divinity School. Brian serves on the Executive Board of Directors for Keep Believing Ministries, is a Pro Contributor to SermonCentral.com, is an author of two tracts (Soul Satisfaction and The Only Way), is a contributor to the Preacher's Sourcebook, a columnist for Believe.com, writes an "Ask a Pastor" feature for Believe.com and serves as the chaplain for the Quad Cities Missing Persons Network. He also hosts a weekly radio program called, "On Mission" that airs on WDLM on Sundays at 11:00 am and 7:30 pm.
Charles Stone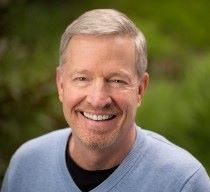 Charles Stone
Charles Stone has been a pastor for over 35 years in the U.S. and Canada and has been married to the love of his life Sherryl, for 38 years. He and Sherryl have three grown children and two grandchildren. He has authored five books and he blogs at charlesstone.com. His hobby, learning, has motivated him to earn four academic degrees. His passion, intersecting neuroscience with biblical truth, has led him to continue post-graduate study in this field.