February 28, 2019
The Louder Song
How do you move forward in faith when it feels like God is absent? We will talk about that question on Thursday with author Aubrey Sampson. Aubrey will share what she has learned about the role of lament in the life of the believer. She'll tell us how God has used this in her life as she moved thru seasons of grief and chronic pain.
95Network
Do you attend a small or mid-size church? Would you like to see your church leaders be encouraged in the work, with the kind of support needed to help equip them and grow their Kingdom impact? Thursday morning Dale Sellers with 95Network will be with us to tell us about an upcoming equipping conference specifically designed for the purpose of helping small and mid-sized churches get healthy.
IN THIS EPISODE
Aubrey Sampson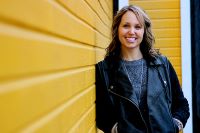 Aubrey Sampson
Aubrey serves on the preaching team and as the director of equipping/discipleship at Renewal Church. She lives and ministers in the Chicagoland area with her husband Kevin and their three young sons.