June 30, 2023
Hour 1: The Gift of God's Word - with Brad Baurain
Almost everything we see in the world around us will eventually wear out and die. The grass fades. Flowers wilt. Stars burn out. Pens run out of ink. Cars break down. Technology becomes outdated. everything must decay and die. Scripture tells us that one thing stands in sharp contrast to the transitory nature of this world: "the word of our God endures forever" (Isa. 40:8). On Friday's Mornings with Eric and Brigitte, Brad Baurain, Associate Professor at MBI and our devotional author this month reminds us that God's Words are eternal, and they will be fulfilled or proved true. We can trust God's Word absolutely.
The Gift of God's Word - July 2023 Today in the Word
Hour 2: Independence: What Does it Mean to Be Free in Christ? - with Emerson Collins
As the 4th of July approaches, we celebrate our freedom as a country and as individuals. As we consider the blessings of freedom, it's also an excellent time to reflect on what it means to be free in Christ. So, what is biblical freedom, and what does it mean when the Bible says, "For freedom, Christ has set us free" (Galatians 5:1)? On Friday's Mornings with Eric and Brigitte, Focus on the Family's project manager, Emerson Collins offers insight into what freedom in Christ and freedom from sin truly mean.
IN THIS EPISODE
Dr. Bradley Baurain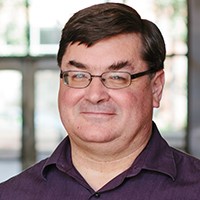 Dr. Bradley Baurain
Brad Baurain is an associate professor at Moody Bible Institute and Moody Theological Seminary. He currently leads the TESOL programs at Moody Bible Institute in Chicago. He is the author of Religious Faith and Teacher Knowledge in English Language Teaching, co-editor of the International Journal of Christianity and English Language Teaching, and writes devotional studies for Moody's Today in the Word.
Emerson Collins
Emerson Collins
Emerson Collins is the Project Manager for Bring Your Bible to School Day and Live it Challenges at Focus on the Family. He lives in Colorado Springs where he enjoys camping, hiking, and bringing his Bible with him everywhere he goes. If he isn't outside or with friends, you might find him serving his local church in their pastoral residency program.