June 27, 2023
Hour 1: Health Update - with Dr. Keith Campbell
On Tuesday's Mornings with Eric and Brigitte, Dr. Keith Campbell from Wycliffe USA Global Health Services joins us to talk about God's miracle of the development of a child, from birth to adulthood. He also discusses the various ways we can seek help as our child grows, if we see signs that he/she needs improvement or support in a certain area.
Hour 2: How Can I Ever Afford A Home? - with Chuck Bentley
You've always wanted to own a house, but in 2023 and in this financial culture, is it possible to purchase one? On Tuesday's Mornings with Eric and Brigitte, Crown Financial CEO, Chuck Bentley was asked this question,"I am 25, live in a hot housing market, and feel squeezed by rising rents. I can't see any way that I could ever buy a home! I need a plan and some hope. Sick of Paying Rent." Chuck tells us we are in a very unique time when millions of renters are motivated to buy a home but feel trapped. Hopefully, this will not last too much longer. In the meantime, there are steps you should be taking now.
Ask Chuck - How Can I Ever Afford a Home?
Hour 3: Tribute to the Life and Legacy of Mike Kellogg - with Jon Gauger
Former host of Music Thru the Night, Mike Kellogg, has passed away. Mike was a trusted voice of Moody Radio for decades and impacted eternity for so many. Today, he is in the presence of His Lord and Savior Jesus Christ. Psalm 16:11, "You make known to me the path of life; in your presence there is fullness of joy; at your right hand are pleasures forevermore." Moody Radio producer, Jon Gauger pays a tribute to the impact of Mike Kellogg's gifts, talent and heart on so many lives.
IN THIS EPISODE
Keith Campbell
Keith Campbell
Keith and Lisa Campbell serve at the Wycliffe USA headquarters in Orlando, Florida. Keith serves as Medical Director for Wycliffe USA Health Services. Lisa serves their family of three children at home. Wycliffe USA Global Health Services works closely with their partner organizations to support their missionaries' physical, mental, and spiritual health enabling them to joyfully serve God within His calling on their lives. With Health Services encouraging wholistic health, Wycliffe translators and support staff are working to bring God's Word to all peoples of the earth in a language and a form they can clearly understand.
Chuck Bentley
Chuck Bentley
Chuck Bentley is a graduate of Baylor University and the CEO of Crown Financial Ministries. He has traveled throughout the world teaching biblical financial principles to the affluent, middle class, poor, and ultra poor. He's the author of a number of books including Money Problems, Marriage Solutions: 7 Keys to Aligning Your Finances and Uniting Your Hearts, written with his wife Ann. They have been married since 1978 and have four sons and four grandchildren.
Mike Kellogg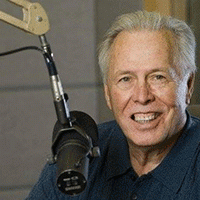 Mike Kellogg
Mike Kellogg began his service with Moody Radio in 1972. For many years he was instrumental in the creation of multiple radio dramas, working with some of the finest actors in the country. Stories of Great Christians, Continued Story Reading, and The Sugar Creek Gang are examples of programs that blessed multiple generations of radio listeners. Some of these episodes are still being broadcast today. In 1982, Kellogg was named host of the program that he is most widely associated with, Music Thru The Night. For more than 30 years, Kellogg's rich voice brought comfort to the distressed and hope to the weary. He retired in 2014.