February 03, 2023
Hour 1: Walk in the Light: A Study of 1, 2, 3 John - with Bradley Baurain
If the way ahead sometimes seems dark, you will be encouraged by this month's study of 1, 2, and 3 John. The apostle John's message is filled with life and hope. No matter what we are facing, no matter what we read in the headlines, the Light has dawned, the Son has risen, and the Day is coming! On Friday's Mornings with Eric and Brigitte, Dr. Brad Baurain, Associate Professor at MBI and our devotional author this month prays that we will live out our salvation through love in action, discern and resist worldly temptations and false teaching, and understand the connections between love and obedience.
Hour 2: The Key to Happiness - with Paul Batura
Almost nothing is better than spending time with a friend or close family member in a long conversation over coffee or on a walk on the beach. Marriage, the family unit, and community were all part of God's beautiful design for His beloved people. So how can we love our spouses, friends, co-workers, and loved ones well? On Friday's Mornings with Eric and Brigitte, Paul Batura VP of Communications for FOTF writes, "It's abundantly clear that God designed us to be in community and to love one another well." How do we do that the way God wants us to?
IN THIS EPISODE
Dr. Bradley Baurain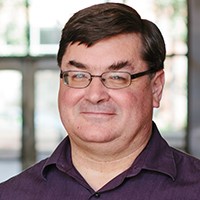 Dr. Bradley Baurain
Brad Baurain is an associate professor at Moody Bible Institute and Moody Theological Seminary. He currently leads the TESOL programs at Moody Bible Institute in Chicago. He is the author of Religious Faith and Teacher Knowledge in English Language Teaching, co-editor of the International Journal of Christianity and English Language Teaching, and writes devotional studies for Moody's Today in the Word.
Paul Batura
Paul Batura
Paul Batura is vice president of communications for Focus on the Family. In his role, Batura is responsible for media and guest relations. With more than two decades of diverse experience in the news media, broadcast journalism, publishing, and non-profit administration, Batura has been with Focus on the Family since 1998. Batura and his wife, Julie, had the privilege of adopting their three young boys, Riley, Will and Alex. They join countless other families in celebrating the courageous decision of birthmothers and birthfathers who choose life.