September 30, 2022
Hour 1: Our Present and Future Hope - October Today in the Word - with Dr. Brad Baurain
For believers, hope is not a wish but a sure thing. Our hope is not a vague motion, but embodied in Jesus Christ, our Living Hope. Peter tells us that the best way we can honor our salvation is by living it out. On Friday's Mornings with Eric and Brigitte, Dr. Brad Baurain, Associate Professor and Program Head at MBI joins us to share from October TITW how we can be motivated to live out our salvation and pursue holiness, understand the privilege we have, as believers, to participate in Christ's sufferings, and choose to live today in light of Christ's imminent return.
Hour 2: Convoy of Hope Providing Assistance to Hurricane Ian Survivors - with Ethan Foretz
Convoy of Hope's caravan of response vehicles are en route to Florida. Once Ian is no longer a threat to the area, Convoy team members will set up points of distribution (POD) and begin assisting survivors. Ian's threat isn't gone. The storm will bring strong winds, heavy rains, and storm surge to areas of Florida, Georgia, and the Carolinas over the coming days. On Friday's Mornings with Eric and Brigitte, Ethan Foretz of Convoy of Hope joins us to share that this organization will do as much as possible for as long as possible to make sure survivors have what they need.
IN THIS EPISODE
Dr. Bradley Baurain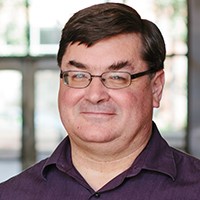 Dr. Bradley Baurain
Brad Baurain is an associate professor at Moody Bible Institute and Moody Theological Seminary. He currently leads the TESOL programs at Moody Bible Institute in Chicago. He is the author of Religious Faith and Teacher Knowledge in English Language Teaching, co-editor of the International Journal of Christianity and English Language Teaching, and writes devotional studies for Moody's Today in the Word.
Ethan Foretz
Ethan Foretz
Ethan Forhetz is Vice President of Public Engagement for Convoy of Hope. He also serves as National Spokesperson for the charity. Prior to joining Convoy of Hope, he worked for 25 years as a television journalist. His experience anchoring and reporting news includes stints in St. Louis; Las Vegas; Grand Rapids, Michigan; Springfield, Missouri and Tallahassee, Florida. He spent 15 years in Springfield anchoring the 5pm, 9pm & 10pm newscasts on the highest rated of the top 100 NBC affiliates in the United States.