September 01, 2022
Hour 1: Right and Wrong: September Today in the Word - with Dr. John Koessler
We are all sinners; we don't deny it, but we don't think much about it either. We don't fret about sin like the ancients did. Today, our views of right and wrong differ radically from the Bible. On Thursday's Mornings with Eric and Brigitte, MBI Professor, Dr. John Koessler joins us to help us study what the Bible says about sin and righteousness and why those things matter so much to God. Most importantly, we will learn not only what righteousness looks like but also discover how we can be righteous as God defines it.
Right and Wrong - September Today in the Word
Hour 2: Reframe Your Shame: Experience Freedom From What Holds You Back - with Irene Rollins
Irene Rollins knows what it means to walk through shame. She enjoyed her life as a wife, mother, even serving at her church, while she hid a secret addiction to alcohol that almost destroyed everything. On Thursday's Mornings with Eric and Brigitte, Irene, with vulnerability and wisdom, offers strategies and biblical guidance to break free of the suffocating cycle of sin and shame. With practical insights and biblical teaching about what it takes to break the cycle of addiction and shame, Reframe Your Shame will set you on the path to freedom.
IN THIS EPISODE
Dr. John Koessler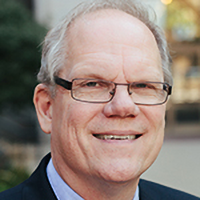 Dr. John Koessler
Dr. John Koessler is faculty emeritus of pastoral studies at Moody Bible Institute in Chicago, where he served as professor of applied theology and church ministry for 25 years. He is the author of several books, including All Together Different (with J. Brian Tucker), The Surprising Grace of Disappointment, A Stranger in the House of God, and True Discipleship: The Art of Following Jesus. He is a contributing author to the Moody Bible Commentary and also serves as a contributing editor for Moody Bible Institute's publication Today in the Word, where you can read his monthly "Theology Matters" column. He and his wife, Jane, have two sons.
Irene Rollins
Irene Rollins
Irene Rollins' fervency to help others overcome their self-defeating habits comes from her life experience as an overcomer of alcohol addiction and trauma. Irene models accountability and often reminds those in the addiction community to "do the work" and "If you aren't working on your recovery, you're working on your relapse." In her downtime, Irene enjoys reading, exercising, cooking and clowning around with her husband Jimmy, their children, Kayla, Jaden, and Maya, and her two English bulldog babies.