April 01, 2022
Hour 1: Handel's Messiah - Demetrius Klein Dance Company
Friday on Mornings with Eric and Brigitte, Kristen Vencel, Rehearsal Director for the Demetrius Klein Dance Company joins us to talk about their upcoming performance of Handel's Messiah on Saturday, April 9 at 7 p.m. at Kravis Center's Persson Hall in West Palm Beach. The Demetrius Klein Dance Company is the oldest Modern Dance company in Florida, and they love creating, educating, and collaborating within the South Florida Community. Tickets are on sale for the April performance at 561-832-7469.
Messiah 2022 - Demetrius Klein Dance Company
Hour 2: Jeremiah: The Weeping Prophet - April's Today in the Word
Dr. Brad Baurain, Associate Professor and Program Head of TESOL at MBI joins us on Friday to give us an idea of what we can look forward to in our April devotional reading in Today in the Word. Jeremiah is considered a prophetic book, and it talks a lot about sin and judgment. Dr. Baurain encourages us to pray as we read, to open our heart to this sometimes uncomfortable message from God to His people, and grow in our awareness of God's hatred of sin and His love of justice. And then, always remember to worship God not only as One who loves us, but the One who is sovereign over all.
Hour 3: The Men We Need
The world needs real men, real bad. And there are all sorts of conflicting ideas and messages about what a "real man" is (and is not). On Friday's Mornings with Eric and Brigitte, Brant Hansen paints a refreshingly specific, compelling picture of what men are made to be: "Keepers of the Garden." Protectors and defenders. He calls for men of all interests and backgrounds (including "avid indoorsmen" like himself) to be ambitious about the right things and to see themselves as defenders of the vulnerable, with whatever resources they have.
IN THIS EPISODE
Dr. Bradley Baurain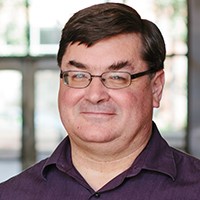 Dr. Bradley Baurain
Brad Baurain is an associate professor at Moody Bible Institute and Moody Theological Seminary. He currently leads the TESOL programs at Moody Bible Institute in Chicago. He is the author of Religious Faith and Teacher Knowledge in English Language Teaching, co-editor of the International Journal of Christianity and English Language Teaching, and writes devotional studies for Moody's Today in the Word.
Brant Hansen
Brant Hansen
Brant Hansen is an author, nationally syndicated radio host, and advocate for healing children with correctible disabilities through CURE International. He's won multiple "personality of the year" awards for his work on his offbeat and quirky radio show which airs on more than 200 stations. His podcast with his friend and radio producer Sherri Lynn, called "The Brant and Sherri Oddcast," has been downloaded millions of times. Brant has authored two books, Unoffendable and Blessed are the Misfits, and written for numerous major media outlets on topics as varied as public policy, culture, sports, Asperger's Syndrome and faith. He and his wife, Carolyn, have two grown children.
Kristen Vencel
Kristen Vencel
Kristen Vencel serves as Rehearsal Director with Demetrius Klein Dance Dompany. She earned her BA in dance at Palm Beach Atlantic University and has enjoyed cross-cultural studies in dance internationally. In addition to dancing, Kristen is also a filmmaker and homeschooling mom of four. Dance is part of her expression, her worship, and the depths of who she was made to be.