January 14, 2022
Hour 1: Something Good is About to Happen Tour - Gaither Vocal Band
On Friday's Mornings with Eric and Brigitte, Gaither Vocal Band founder, songwriter, and producer, Bill Gaither joins us to talk about their upcoming Something Good Is About To Happen concert tour, which kicks off this month. A South Florida concert will be held on Sunday, January 23 at 6 p.m. at First Baptist Church of Fort Lauderdale, and tickets are still available.
Hour 2: Everyday Prayers For Joy
What is joy? We can receive fleeting moments of it when we watch sunlight break through the clouds, or see a little child laugh as he blows apart the fluff of a spent dandelion. But there is only one source of true, lasting joy—and that's our Savior, Jesus. On Friday's Mornings with Eric and Brigitte, author, podcaster, and mom Gina L. Smith shares how God opened His Word to teach her that joy is not just found in God's blessings. Joy is found in Him, the source of those blessings.
IN THIS EPISODE
Bill Gaither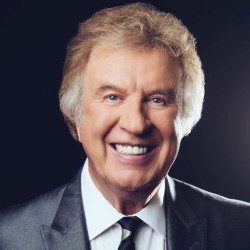 Bill Gaither
William J. Gaither is an American singer and songwriter of Southern gospel and Contemporary Christian music. He has written numerous popular Christian songs with his wife Gloria; he is also known for performing as part of the Bill Gaither Trio and the Gaither Vocal Band (GVB).
Gina L. Smith
Gina L. Smith
Gina L. Smith is an author, podcaster, and a prayer mentor for Million Praying Moms. Gina and her husband, Brian served as the on-campus parents at a Christian college for more than twenty years while Brian was a professor and dean of students. They mentored hundreds of college and seminary students as well as young couples over the years. Gina has a degree in Bible studies from Washington Bible College/Capital Bible Seminary. She is the author of Grace Gifts: Practical Ways to Help Your Children Understand God's Grace. Gina and Brian have two adult children and reside in the metro area of Washington, D. C.