October 15, 2021
Hour 1: Habits of Growing Marriages
How many of us take the time to really invest in our marriages? Do we understand what a difference it can make in our lives and in the lives of our families? Your marriage isn't just about you or your happiness. The purpose of your marriage is to show the world a beautiful picture of the gospel. Trent and Andrea Griffith, part of FamilyLife's Weekend to Remember Getaway Team, join Mornings with Eric and Brigitte on Friday to share how God wants to use your marriage to change the world one home at a time.
Hour 2: From the Palace to the Desert
His life was so filled with drama that it has been depicted in movies. As a baby, Moses was hidden in a basket and adopted by a princess. His life of luxury ended dramatically when he was banished from the palace. He was hand-picked by God to lead His people out of slavery. In the desert, he would meet God Himself on a mountain. Friday on Mornings with Eric and Brigitte, Associate Professor, Bradley Baurain takes a look at the life of this great biblical leader and his close relationship with God, as we learn what it means to follow God with faith, prayer, and obedience.
IN THIS EPISODE
Trent and Andrea Griffith
Trent and Andrea Griffith
Trent and Andrea Griffith are part of FamilyLife's Weekend to Remember® marriage getaway speaker team. Trent is the founding senior pastor of Gospel City Church in Granger, Indiana. Andrea speaks often at women's events across the country and mentors women locally at her church. Prior to planting Gospel City, Trent and Andrea spent 15 years as conference speakers with Life Action Ministries. Trent is a graduate of Mid-America Baptist Theological Seminary in Memphis, Tennessee. Andrea has a degree in Vocal Performance from Samford University in Birmingham, Alabama. Trent and Andrea have five children and live near South Bend, Indiana.
Dr. Bradley Baurain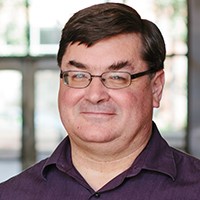 Dr. Bradley Baurain
Brad Baurain is an associate professor at Moody Bible Institute and Moody Theological Seminary. He currently leads the TESOL programs at Moody Bible Institute in Chicago. He is the author of Religious Faith and Teacher Knowledge in English Language Teaching, co-editor of the International Journal of Christianity and English Language Teaching, and writes devotional studies for Moody's Today in the Word.