July 01, 2021
Hour 1: Mercy Chefs Feeding Surfside Rescue Workers
There is so much happening right now in regards to the relief efforts in the area around the collapsed condo building in Surfside. Mercy Chefs is a faith-based, non-profit disaster relief organization that exists to provide professionally prepared, restaurant-quality meals to victims, volunteers, and first responders in natural disasters and national emergencies. Right now, it is providing food, three meals a day, inside the tent where 350 Urban Search and Rescue individuals are located. The founder and chief chef, Gary LeBlanc is joining Mornings with Eric and Brigitte on Thursday to tell us about their efforts.
Hour 2: Sheep and Shepherds in the Bible
If someone called you a "sheep," you might be insulted. Well, then, consider yourself warned, because this month we'll learn that we are all sheep--weak, foolish, and prone to wander. Brad Baurain, a contributing editor to July's Today in the Word joins Mornings with Eric and Brigitte on Thursday to share the complimentary truth in Scripture that God is our Shepherd (Ps. 23:1) and Jesus is our Good Shepherd (John 10:14). Join us in July as we celebrate God's plan of redemption through Christ, the perfect sacrificial and conquering Lamb.
Hour 3: Sports and Ministry
Thursday South Atlantic Multi-Area Director of FCA joins Mornings with Eric and Brigitte as a co-host and interview guest to share from his heart about the mission and vision of Fellowship of Christian Athletes. This organization's core values are that their relationships will demonstrate steadfast commitment to Jesus Christ and His Word through Integrity, Serving, Teamwork and Excellence.
IN THIS EPISODE
Gary LeBlanc
Gary LeBlanc
When Gary LeBlanc founded Mercy Chefs in 2006, he could never have imagined all that God would do through this organization. At the time, he was broken by what he witnessed while volunteering in his hometown of New Orleans during the aftermath of Hurricane Katrina. He knew a hot meal could make all the difference in a person's life. With thirty-five years in the hospitality industry under his belt, he became inspired by the idea of serving high-quality food in a disaster zone. To date, they have served over 15,000,000 meals!
Dr. Bradley Baurain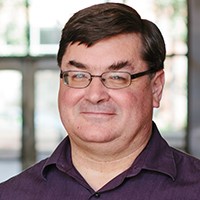 Dr. Bradley Baurain
Brad Baurain is an associate professor at Moody Bible Institute and Moody Theological Seminary. He currently leads the TESOL programs at Moody Bible Institute in Chicago. He is the author of Religious Faith and Teacher Knowledge in English Language Teaching, co-editor of the International Journal of Christianity and English Language Teaching, and writes devotional studies for Moody's Today in the Word.
Desmond Cook
Desmond Cook
Desmond Cook is the South Atlantic Multi-Area Director of FCA, sits on the Board of Directors and is Treasurer for The McDougle Family Foundation, was Vice President of Youth Power Movement, and was dean of Biblical Studies at First Bethel Baptist Church.