June 25, 2021
Hour 1: Day of the Christian Martyr
According to church tradition, June 29 marks the martyrdom of the Apostle Paul. This year, Christians around the world will take time on June 29 and throughout that weekend to honor the legacy of those who have sacrificed their lives for the advancement of the gospel. Todd Nettleton from Voice of the Martyrs joins Mornings with Eric and Brigitte to share how you can encourage your church, small group, class or family to witness boldly for Christ and see examples of Christians who gave their lives for the sake of the gospel.
Hour 2: Youth Matter
Youth are bombarded with conflicting messages from all directions about how they should understand themselves and the world around them. Pastor Daryl Jones of Point Ministries believes that young people should embrace this time of their lives and impact the world around them to the glory of God and has written a book to teenagers called, Youth Matter.
Hour 3: Prayer for Surfside
Pastor Greg Howard from The Cross Church in Hallandale, FL joined Mornings with Eric and Brigitte on Friday to pray for the community of Surfside after the terrible tragedy yesterday when a highrise condo collapsed, and there are still many residents still unaccounted for.
IN THIS EPISODE
Todd Nettleton | Voice of the Martyrs
Todd Nettleton | Voice of the Martyrs
Todd Nettleton is the Chief of Media Relations and Message Integration for The Voice of the Martyrs—USA and host of The Voice of the Martyrs Radio. Todd serves as a voice for persecuted Christians, inspiring US Christians with the faithfulness of Christ's followers in 70+ nations where they face persecution for wearing His name. During more than 20 years serving at VOM, Todd has traveled the world and conducted face-to-face interviews with hundreds of Christians who've endured persecution in more than 30 nations.
Daryl Jones
Daryl Jones
Daryl Jones is the Founder and President of Point Ministries, an international ministry dedicated to equipping disciples of Jesus Christ to impact the world. He also serves as the Founder and Lead Pastor of The Rock Fellowship Church in Miami, Florida. Daryl and his wife, Kamica, have seven children, four daughters and three sons.
Greg Howard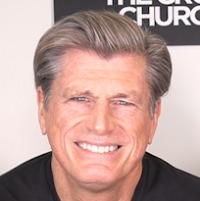 Greg Howard
Greg Howard is the Pastor of The Cross Church in Aventura, FL. It is a community that centers on the teaching of the bible and the person and mission of Jesus.