May 07, 2021
Hour 1: Ministering to Mothers in Need
The women who walk through the doors of First Care Women's Clinic are scared, and sometimes alone, looking for answers. As they struggle with their unplanned pregnancy, First Care offers them love and support, while providing them with free services such as pregnancy tests and ultrasounds. Friday on Mornings with Eric and Brigitte, Beau Heyman, Executive Director of First Care tells us that their goal is that through these services and the support they provide, they can help women choose life for their unborn children.
Hour 2: Living in Light of Christ's Return - Today in the Word Study for May
There are times in our lives that we'd rather forget. But as children of the Light, we must walk as living witnesses to the transforming power of the gospel and be spurred to live God-pleasing lives in light of Christ's return. Associate Professor and Program Head of TESOL at MBI, Brad Baurain will join Mornings with Eric and Brigitte on Monday to share the background, purposes, and themes of the May study of 1 and 2 Thessalonians in Today in the Word.
Hour 3: In Celebration of Moms
Being a mother often requires commitment, selflessness, patience, and a boatload of unconditional love. It's a lot of hard, often thankless work to raise a child, which is why the mothers in your life deserve to be honored this Mother's Day (and every day!). Moody Radio's Jon Gauger joins Mornings with Eric and Brigitte on Friday to share some fun and engaging stories about families from his book, Kids Say the Wisest Things.
IN THIS EPISODE
Beau Heyman
Beau Heyman
Executive Director at First Care Women's Clinic
Dr. Bradley Baurain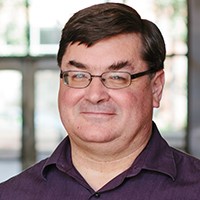 Dr. Bradley Baurain
Brad Baurain is an associate professor at Moody Bible Institute and Moody Theological Seminary. He currently leads the TESOL programs at Moody Bible Institute in Chicago. He is the author of Religious Faith and Teacher Knowledge in English Language Teaching, co-editor of the International Journal of Christianity and English Language Teaching, and writes devotional studies for Moody's Today in the Word.
Jon Gauger
Jon Gauger
Jon Gauger has been with Moody Radio nearly three decades and works with special projects. In addition to being the host of the weekly teaching program, Moody Presents, Jon is hosting and producing The Land and the Book. He writes and produces a weekly commentary, creates special documentaries, and has traveled to 30 countries covering stories for Moody Radio, or doing training work with international broadcasting partners. Jon is married to Diana, and they have two grown children-all of whom are Moody graduates. An avid photographer, videographer and reader, Jon also enjoys camping and freelance voice-over work, including audiobook projects.