February 04, 2021
Hour 1: Creative God, Colorful Us
God could have made us all exactly the same, but He didn't. And our differences are good! Every person is made by God, in His image, and therefore is equal in value and worth. Thursday, on Mornings with Eric and Brigitte, author, Trillia Newbell tells us that as his children, those called by God to belong to His family, we can actually use our differences to help each other.
Hour 2: A Good Type of Fear
Sometimes we think of fear as unpleasant--anticipating danger or loss of courage. However, it says in Psalm 34, "Fear the Lord, you His saints, for those who fear Him lack nothing." Fearing the Lord means to be in awe of his holiness, to give Him complete reverence and to honor him as the God of great glory, majesty, purity and power. Pastor Greg Howard of Cross Church in Hollywood joins Mornings with Eric and Brigitte on Thursday to discuss "A Good Type of Fear".
IN THIS EPISODE
Trillia Newbell
Trillia Newbell
Trillia Newbell is the author of several books including A Great Cloud of Witnesses, Sacred Endurance, If God is For Us, Fear and Faith and the children's books, Creative God, Colorful Us and God's Very Good Idea. When she isn't writing, she's encouraging and supporting other writers as an Acquisitions Editor at Moody Publishers. Trillia is married to her best friend, Thern, they reside with their two children near Nashville, TN.
Greg Howard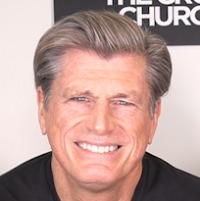 Greg Howard
Greg Howard is the Pastor of The Cross Church in Aventura, FL. It is a community that centers on the teaching of the bible and the person and mission of Jesus.