December 23, 2020
Hour 1: Christmas Family Ideas
Are you looking for something fun to watch as you make your hot chocolate and popcorn and get ready to celebrate the birth of our Savior? We face more limitations during a pandemic holiday but Friday on Mornings with Eric and Brigitte, Billy Hallowell of PureFlix will offer simple ideas that you can do alone or w/the family…and he'll share his family film suggestions for this season!
Hour 2: A Marriage Carol
Chris Fabry, host of Moody Radio's Chris Fabry Live, joins Mornings with Eric and Brigitte to share about his book that he wrote with Gary Chapman, A Marriage Carol. If your heart needs rekindling, if you long for unconditional love, this story will bring warmth and hope. We always need to remember that just one choice sometimes changes a life!
Hour 3: Advent
Even though it's been a challenging year for most of us, we are anticipating Christmas and resting in the words of the Psalmist: "Even though I walk through the darkest valley, I will fear no evil, for you are with me" (Ps. 23:4). Advent reminds us that the Living God is with us during each step of our journey. Christmas is a beautiful celebration of Emmanuel, God with us when the Greatest of All became one of us. Thursday, on Mornings with Eric and Brigitte, Dr. Brad Baurain, author of the Today in the Word's Advent devotional invites you to join them as we learn about the hope we have in Christ and rejoice in His salvation—a present truth and our future hope.
IN THIS EPISODE
Billy Hallowell
Billy Hallowell
Billy Hallowell is the director of Communications and Content for PureFlix.com, the former senior editor at Faithwire.com and the former faith and culture editor at TheBlaze; he has contributed to FoxNews.com, The Washington Post, Human Events, The Daily Caller, Mediaite, and The Huffington Post, among other outlets.
Chris Fabry
Chris Fabry
Chris Fabry is the host of Chris Fabry Live!, two hours of spiritual encouragement from his backyard radio fence. The program challenges listeners to think biblically about their spiritual journeys. Chris is also the author of the Christy Award-winning novel Dogwood, June Bug, ECPA Christian Book Award-winner (Fiction) Almost Heaven, Not in the Heart and Borders of the Heart. He and his family live near Tucson, Ariz.
Dr. Bradley Baurain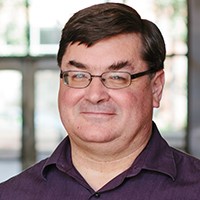 Dr. Bradley Baurain
Brad Baurain is an associate professor at Moody Bible Institute and Moody Theological Seminary. He currently leads the TESOL programs at Moody Bible Institute in Chicago. He is the author of Religious Faith and Teacher Knowledge in English Language Teaching, co-editor of the International Journal of Christianity and English Language Teaching, and writes devotional studies for Moody's Today in the Word.