December 21, 2020
Hour 1: Moody Ministry Impact Report
Mark Jobe, President of Moody Bible Institute joins Mornings with Eric and Brigitte on Monday to share a Moody Ministry Impact Report on the year 2020 and how Moody Radio, Moody Publishers and Moody Bible Institute worked to spread the gospel to our listeners in our community, our nation, and the world.
Hour 2: Grieving During the Holidays
There's a lot of festivities going on at this time of year--with food, lights and usually music. However, for those of us who have lost someone recently or in the past year or so, it's hard to walk through this period of life. Memories well up, as well as tears, and we have a difficult time dealing with our grief and pain. Pastor and counselor, Norm Wise joins Mornings with Eric and Brigitte on Monday to talk about how to seek comfort in God's peace, not in what the world has to offer.
Hour 3: Don't Miss Christ in Christmas
We approach the holiday season with lots of activities scheduled, things to accomplish, places to go and people to see! But have you ever wondered how your family could really honor God during the Christmas holiday season? Monday on Mornings with Eric and Brigitte, Bill Thrasher, Professor of Bible and Theology at MBI, will share how it is important to plan and personalize your next holiday celebration--with God in mind.
IN THIS EPISODE
Mark Jobe
Mark Jobe
Dr. Mark Jobe serves as Moody Bible Institute's 10th president. He is the Bible teacher on Bold Steps with Dr. Mark Jobe and the author of What Now?: How to Move into Your Next Season and Unstuck: Out of Your Cave Into Your Call. He and his wife, Dee, have been married over 30 years and have three adult children, Marissa, Josiah and Grant. The Jobes currently reside in the Chicago area where they are active members of New Life Community Church, a nondenominational, multisite church where Dr. Jobe has served as senior pastor since 1986. Mark is a graduate of Moody Bible Institute and holds a Master's Degree from Moody Theological Seminary and a doctorate from Bakke Graduate University.
Pastor and counselor Norm Wise has a B.S in Education and B.A. in Biblical theology from Geneva College. He has a MDiv. and a D.Min. from Knox Theological seminary. He is trained in theology and gifted in providing guidance through counseling to both individuals and families. The core of his counsel comes from developing a healthier life story based on the love of God through Christ Jesus.
Dr. Bill Thrasher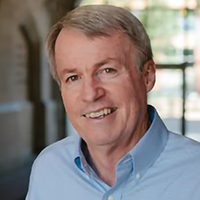 Dr. Bill Thrasher
William D. Thrasher (B.S., Auburn University; Th.M., Th.D., Dallas Theological Seminary) is Professor of Spiritual Formation at Moody Theological Seminary and is a frequent speaker for churches and retreats across the country. His ministry interests include campus discipleship, singles ministry, and evangelism. His books include God as He Wants You to Know Him, Believing God for His Best, A Journey to Victorious Praying, Principles of Christian Living from Romans 5-8, The Attributes of God in Pauline Theology, and Living the Life God Has Planned.