December 10, 2020
Hour 1: Hanukkah - The Festival of Lights
Hanukkah, which means "dedication" in Hebrew, begins on the 25th of Kislev on the Hebrew calendar and usually falls in November or December. Often called the Festival of Lights, the holiday is celebrated with the lighting of the menorah, traditional foods, games and gifts. Greg Savitt, Director of Jewish Evangelism for Rock of Israel will join Mornings with Eric and Brigitte on Thursday to share with us some significant details about Hanukkah and its connection to Christmas and Jesus Christ.
Hour 2: Living in Hope: A Study in Advent
It's been a hard year for most of us. But as we anticipate Christmas, we rest in the words of the Psalmist: "Even though I walk through the darkest valley, I will fear no evil, for you are with me" (Ps. 23:4). Advent reminds us that the Living God is with us during each step of our journey. Christmas is a beautiful celebration of Emmanuel, God with us when the Greatest of All became one of us. Thursday, on Mornings with Eric and Brigitte, Dr. Brad Baurain, author of the Today in the Word's Advent devotional invites you to join them as we learn about the hope we have in Christ and rejoice in His salvation—a present truth and our future hope.
Hour 3: The Meaning of Christmas
Rob Pacienza, Lead Pastor of Coral Ridge Presbyterian Church joins Mornings with Eric and Brigitte on Thursday to bring up some questions we or others might have concerning the meaning of Christmas. Who is this baby, this child, who came to earth--God in the flesh? What did this child come to do, and what is our greatest problem? Why would we ever give ourselves to this child--He demands our entire life. Christmas changes everything!
Christmas at Coral Ridge - Joy to the World!
IN THIS EPISODE
Greg Savitt
Greg Savitt
Greg Savitt was born and raised as a conservative Jew in a Chicago suburb. He attended Hebrew School, learned about Jewish traditions, liturgy, and the Hebrew language; yet he does not remember the rabbis talking about God as if He could be known personally. At age 16, while attending a Christian youth function, friends told him about Jesus, but it frightened him. As he got older, even though he had plenty of friends, money, and good times, he knew something was missing. He began attending church regularly as friends continued to witness to him. He left his job as a CPA in 1997 to become a full-time evangelist with Jews for Jesus for 14 years. Greg is now serving with Rock of Israel as the Director Jewish Evangelism in Florida.
Dr. Bradley Baurain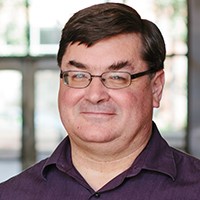 Dr. Bradley Baurain
Brad Baurain is an associate professor at Moody Bible Institute and Moody Theological Seminary. He currently leads the TESOL programs at Moody Bible Institute in Chicago. He is the author of Religious Faith and Teacher Knowledge in English Language Teaching, co-editor of the International Journal of Christianity and English Language Teaching, and writes devotional studies for Moody's Today in the Word.
Rob Pacienza
Rob Pacienza
Rob Pacienza is the lead Pastor of Coral Ridge Presbyterian Church. Rob is married to his wife, Jen and has two children, Preston and Lydia.