August 12, 2019
Hour 1: College for Adults - What are the Options?
As an adult--are you on a career path but wish to pursue something different? When is going back to school a good idea? What are some ways to pay for it if an adult does want to go back to school? On Monday Moody Radio financial expert, Glenn Zimmerman joins Mornings with Eric and Brigitte to focus on options for an adult choosing to go back to college. Don't miss this interesting discussion!
Hour 2: Love Over Fear
Whether it's the news, social media, or well-intentioned friends, we're told daily to fear "others." We fear strangers, neighbors, the other side of the aisle, even those who parent differently. And when we're confronted with something that scares us, our brain sees only two options: Attack or Avoid. But either way, polarization intensifies. On Monday, Dan White Jr. joins Mornings with Eric and Brigitte to ask if we could defy our own instincts and choose a third option--scandalous, disruptive, unthinkable LOVE? Don't miss this important converation!
IN THIS EPISODE
Glenn Zimmerman
Glenn Zimmerman
Glenn Zimmerman has been with Kenneth Frenke & Co. since 1996. Glenn is Vice-president of Kenneth Frenke & Co., manages the Atlanta office and regularly travels to South Florida to meet with clients. He lives in Atlanta with his wife Emily and their two terriers, Jackson and MacKenzie.
Dan White, Jr.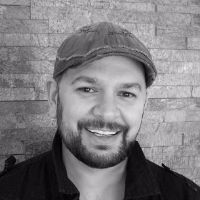 Dan White, Jr.
Dan White, Jr., coplanted Axiom, an International Christian Community in Syracuse, N.Y. He is also a strategist with the V3 Movement, coaching cohorts from around the country through a 9-month missional system. Dan is the author of Subterranean and coauthor of the award-winning The Church as Movement. He is married to Tonya, dad to Daniel and Ari, and can be found enjoying conversations at Salt City Coffee.