January 05, 2022
Hour 1: God Of Tomorrow
Partisan politics, immigration, redefinition of family, racism---today's issues are splitting our country. How can we intentionally and lovingly deal with those whose opinions differ from ours? Emphasizing that contemporary cultural issues parallel those that Jesus, Peter, and Paul confronted, our guest will equip us to engage with people with whom we disagree, trusting in God's sovereignty.
Hour 2: Overcoming Shame
Shame is debilitating. It ruins relationships, thwarts growth, and destroys hope. It can masquerade as various problems--guilt, envy, pride, resentment--but until you heal the core issue, freedom will remain out of reach. Today, our guest wants to open your eyes to the real battle you're facing and teach you the skills to effectively fight back. Combining psychological research, sound biblical teachings, and clinical experience, he will address the pain no one talks about--and explore the only remedy that can bring real healing.
IN THIS EPISODE
Caleb Kaltenbach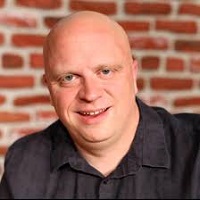 Caleb Kaltenbach
Caleb Kaltenbach is Research Pastor at Shepherd Church in Los Angeles and founder of The Messy Grace Group where he helps churches love and foster community with LGBTQ individuals without sacrificing theological convictions. He's the author of Messy Truth, God of Tomorrow, and Messy Grace (where he discusses being raised in the LGBTQ community, following Jesus, and how loving others doesn't require shifting beliefs). A graduate of Ozark Christian College and Talbot School of Theology (Biola University), he received his doctorate from Dallas Theological Seminary. In addition to having served as a lead pastor and associate pastor, Caleb has served on the boards of ministries and colleges.
Dr. Mark Baker
Dr. Mark Baker
Dr. Mark W. Baker is licensed as a clinical psychologist, marriage and family therapist and life coach. He is the executive director of La Vie Counseling Centers in Southern California. Dr. Baker holds advanced degrees in both theology and clinical psychology. He is a bestselling author and his books include Jesus, The Greatest Therapist Who Ever Lived and Spiritual Wisdom for a Happier Life.