June 11, 2018
Hour 1: Faith in Conflict
​The Christian faith seems rife with paradoxes—a compassionate God who sanctions genocide, and all-powerful God who allows horrific suffering, a God who owns everything yet demands so much from his followers, a God who is distant and yet present at the same time. Many of us have big questions about God that the Christian faith seems to leave unanswered, so we push them to the back of our minds for fear of destabilizing our beliefs. But what if the tension between apparently opposing doctrines is exactly where faith comes alive? What if this ancient faith has survived so long not in spite of but precisely because of these apparent contradictions? What if it is in the difficult parts of the Bible that God is most clearly revealed? Join us to learn how the paradoxes that seem like they ought to undermine belief are actually the heart of our vibrant faith.
Hour 2: Fighting For Your Marriage
Divorce is rampant in the culture and has impacted the Church. How do we stem the tide of dissolving marriages? Whatever the issue is in your marriage - communication, the kids, poor attitudes - you can put your marriage relationship on the road to recovery even if you're the only one committed to change. Come with your questions.
IN THIS EPISODE
Dr. Krish Kandiah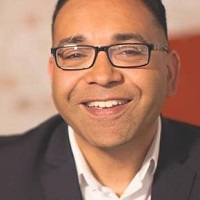 Dr. Krish Kandiah
Krish is the founding director of Home For Good, a young charity seeking to make a real difference in the lives of vulnerable children by finding loving homes for children in the care system. He has written 12 books and writes regularly for Christianity Today. Krish holds degrees In Chemistry, Missiology and Theology. His PhD Is from Kings College, London. He currently holds faculty positions at Regents College, Vancouver and Regents Park College, Oxford University and is an honorary research Fellow at the National Centre for Post Qualifying Social Work at Bournemouth University and an honorary reader in theology at St Andrews University, Scotland. Krish lives with in Oxfordshire with his wife and 7 children (through birth, fostering and adoption).
Dr. David Clarke
Dr. David Clarke
Dr. David Clarke is a Christian psychologist, speaker, and the author of 11 books, including Kiss Me Like You Mean It. A graduate of Dallas Theological Seminary, Western Conservative Baptist Seminary, and Point Loma College, he has been in full-time private practice for over 30 years. He lives in Tampa, Florida.