June 07, 2018
Hour 1: Saving Grace in Dark Places
​While Washington debates our withdrawal from the Iran Nuclear Deal, Christians want to know what is happening to the people of Iran? Is the Gospel spreading in that country? How can we pray for the Iranian people? Join us as we talk with the man called "The Billy Graham of Iran."
Hour 2: Truth in Love
Partisan politics, immigration, redefinition of family, racism---today's issues are splitting our country. How can we intentionally and lovingly deal with those whose opinions differ from ours? Emphasizing that contemporary cultural issues parallel those that Jesus, Peter, and Paul confronted, our guest will equip us to engage with people with whom we disagree, trusting in God's sovereignty.
IN THIS EPISODE
Dr. Hormoz Shariat
Dr. Hormoz Shariat
Because of Iran Alive Ministries' effective satellite television broadcasts to the Middle East and Europe, Dr. Hormoz Shariat—the founder--has been called "the Billy Graham of Iran." Iran Alive's ministry reaches millions of people and has brought hundreds of thousands of Muslims to Jesus Christ since its inception.
Caleb Kaltenbach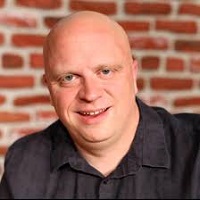 Caleb Kaltenbach
Caleb Kaltenbach is the Lead Pastor at Discovery Church in Simi Valley, Calif. Raised in the LGBT community, he was exposed to how some Christians treated the LGBT community, and grew to hate Christians. In high school, he joined a Bible study to disprove the Bible, but ended up following Jesus instead. Later, his parents followed Jesus too. Caleb is a graduate of Ozark Christian College, Talbot School of Theology and is finishing his doctorate at Dallas Theological Seminary. He speaks widely on the subjects of reconciliation, faith, diversity, and grace/truth. Caleb and his wife, Amy, reside in Southern California with their two kids.