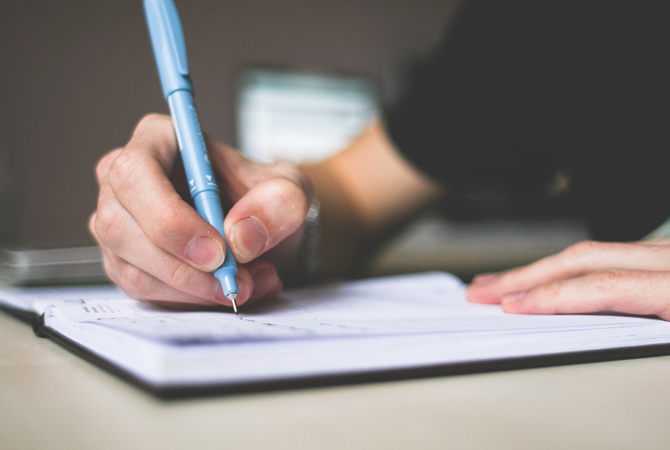 Your Letters Show God at Work!
Did you know we send more greeting cards at Christmas than for any other holiday? Hallmark estimates we send almost 1.5 billion cards to our friends and family as a part of our annual celebration.
And, at Moody, we are always excited to read cards and letters from you!
We wanted to share a few of these inspiring letters with you because they show God working in your life and in the lives of others. Thank you for your support of Moody Radio. Through your gifts, you played an important role in these faith stories!
We'd love to hear from you as well!
• Has God worked in your life in 2016?
• Did He use a particular program, song, or topic to impact your heart?
Called Me Back to Him
My walk with God has gotten off in the weeds over the last year. Last week, my radio stopped on Moody. I felt God calling me back to Him. Thank you for what you do and for encouraging us through God's eyes.
– Ginger, Arrington, TN
Connected Me to Other Believers
I recently found my way back to God. A Christian brother mentioned your radio station. I listen to it at work every day and in my car. I feel so blessed now and thirst for contact with Christian community. I belong to [a local church] and have become part of a small group, and a weekly discipleship gathering. I need to be around other Christ followers/believers. I have started to delve into reading the Bible.
 – Ed, Chicago, IL
Saved a Life!
I am the leader for the 40 Days for Life prayer vigil outside of a Planned Parenthood clinic. I received a call from a woman who rocked my day. She told me she had an abortion appointment, but because of what she heard on Moody Radio she could not go in. She was outside in her car and drove away. Mind you, she is not a listener of Moody Radio. She was surfing for a station for her kids, heard your show, and stopped and listened. God's timing. I witnessed a miracle, the saving of a life.
– Catherine, Aurora, IL
Redeemed My Work Day
I've been praying about how to deal with a difficult person at work. This woman reacts negatively about situations. She calls her outbursts "passion," yelling and cursing. This happens every day. So I pray. And pray. Then I heard Karl and June on Moody's morning show talk about being bullet proof. I was in the parking lot at work, ready to get out of the car, but I had to stay and listen. That was God's answer to me. I was so blessed! Thank you.
 – Jean, Chicago, IL
Educated Me on God's Truth
On a nice summer day, I was asked to make a drug delivery. While walking to the spot, a passenger in a passing car pointed a gun at me. Then he said, "It's not your time," and put the gun away. That incident changed my life. I found a Bible and began to read it every day. I gave my life to God and made a choice to be baptized. Then I found Moody Radio and have been listening ever since. Moody has educated me on God's truth. Thank you!
– Gilbert
Helped Me Care for My Parent
I was at my elderly parents' house this afternoon, trying to calm down my usually sweet father (who has early Alzheimer's). Today was a bad day. It was loud. It was ugly. As I left, brokenhearted over what happened, knowing that more days like this are in our future, I got in my car and flipped on Moody Radio. You (Chris Fabry) were on, saying "Today's show: Finding Hope in Alzheimer's." Thank you for having a show on this topic. It was God's timing.
 – Kathryn
---
Share your story of how God has worked in your life in 2016!